The Apple Armada - Still worthy of the Jolly Roger?
Steve gets his F
---
Brother, Can You Spare a Dime?
Corporations provide financial support to their communities because they believe that doing so is both practical and altruistic. But apparently, Apple disagrees.
On the practical side, a company needs to attract the best employees possible, and top-notch prospects don't care to relocate in cultural, educational, or health-care backwaters. A smart company invests in ensuring that the home town of its home base remains enticing.
Another practical reason is what people in the fundraising biz call "cause-related marketing." If Kraft Foods visibly funds the atrium of the American Museum of Processed Cheese, Kraft will sell more Velveeta.
And although it may be hard to believe in these avaricious times, some corporations - or, at least, their leadership cadres - are simply altruistic folks who believe that it's the duty of the rich few to help the not-so-rich many. Andrew Carnegie built libraries. Bill Gates fights poverty and disease.
What about Apple? Well, divining the intent and extent of Apple's corporate philanthropy is no easy task. Unlike, say, HP and IBM, Apple's website is devoid of information about the company's philanthropic programs. And our repeated attempts to obtain information from Apple spokesfolks about the company's philanthropic policies and activities were unsuccessful.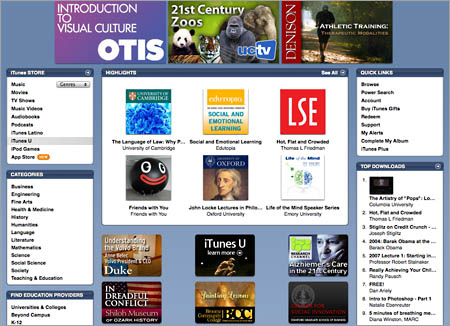 iTunes U: Is it enough?
So we went digging. We started with the San Francisco Business Times' annual Book of Lists, which tracks the "Top Corporate Philanthropists in the Greater Bay Area." The Greater Bay Area includes Apple's home town of Cupertino, but Apple is conspicuously absent from the list for three years running.
By comparison, the list's number-three donor is Intel, which gave $10,006,961 in the Bay Area ($1,491 per Bay Area employee) and $79,443,226 worldwide. Even Microsoft, which has its headquarters 800 miles north in Redmond WA gave $1,779,200 in the Bay Area ($1,288 per Bay Area employee) and $65,000,000 worldwide - a figure that doesn't include Bill's Gates Foundation.