Honda surprised everyone by whipping the dust cover off of its FC Sport Design Study fuel-cell concept car at the 'subdued' Los Angeles Motor Show last week.
The three-seat FC Sport uses the same V Flow hydrogen fuel-cell found in the Honda FCX Clarity saloon, which went on limited sale in Southern California back in July – one being bought by Jamie Lee Curtis.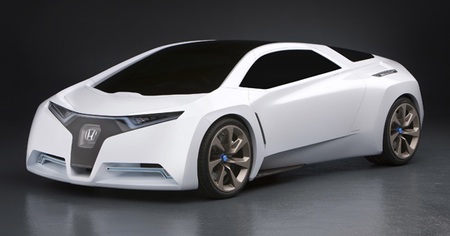 Honda's FC Sport: fuel-cell powered
However, the FC Sport's version of the fuel-cell has been reconfigured to better suit the dynamics of an arse-to-the-tar sports car.
With stability and handling in mind, the fuel-cell stack sits between the two rear seats while the battery pack is placed low down amidships. The electric motors sit just forward of the rear axle while the two fuel storage tanks sit above them so they can be easily stolen, damaged and/or admired by passers by.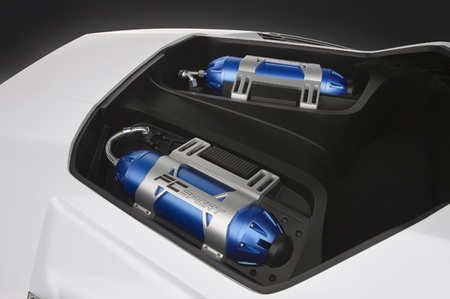 Easily nickable accessible hydrogen fuel tanks
In the words of American Honda Motor Co. VP Dan Bonawitz, "the Honda FC Sport explores how to satisfy automotive performance enthusiasts in a world beyond petroleum... people who love sports cars will still have a reason to love a hydrogen-powered future".
No word on how fast the thing will go or if the power train has been in anyway modified from that of the Clarity, which has an electric motor rated at a reasonably modest 100kW, a range of up to 280 miles from a 4.1kg supply of hydrogen compressed at 5000psi, a top speed of 100mph and a 0-60 time of around 8.5s.
There are no pictures of the interior because, in the best tradition of concept cars, it doesn't actually exist. That said, Honda did claim that the exterior panels are "intended to use plant-derived bio-plastics".
Honda FC Sport Picture Gallery