IBM is receiving undisclosed damages after it and Plasmon CEO Steve Murphy settled a dispute about Plasmon's apparent poaching of ex-Softek employees working for IBM.
IBM bought Softek, a storage array data migration company headed by Steve Murphy, in January 2007. It arranged a holder agreement with Murphy, who left at that point, which stopped him trying to persuade certain IBM employees, understood to be ex-Softek ones employed by IBM, to work with him in other ventures.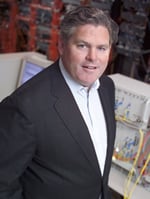 Steve Murphy (right) was appointed as Plasmon CEO in November 2007, and then, IBM says, he "engaged in conversations with and offered employment to several [ex-Softek] IBM employees in violation of his holder agreement". Some of these employees joined Plasmon.
Consequently IBM entered into a legal dispute process with Murphy and a confidential settlement has been reached which involves the payment of undisclosed damages to IBM.
This dispute could hardly have helped Plasmon in its negotiation of marketing and support arrangements with IBM, such as Fibre Channel interfaces to its optical libraries for IBM i systems customers, and a FileNet deal. It must also have been an unwelcome distraction during Plasmon's recent struggles to obtain private equity funding which have resulted in lay-offs both sides of the Atlantic Ocean.
The company in the USA is still struggling to find a way forward with its major secured creditor and potential investors.
Everything is now, it appears, sweetness and light between IBM and Steve Murphy. David Johnson, IBM's VP for corporate development, said: "IBM is pleased that it could resolve this dispute amicably. IBM takes these matters seriously and will strictly enforce its legal rights as set forth in the holder agreements it enters into with executives of acquired companies."
There you have it - don't sell your company to Big Blue and hire back key employees. ®