The tool bag lost by NASA astronaut Heide Stefanyshyn-Piper during an ISS space walk has been filmed sailing over Earth by a veteran satellite observer over the weekend.
SpaceWeather.com has a video recording of the backpack-sized bag's extended lesson in basic Newtonian physics made by Kevin Fetter from his backyard observatory in Brockville, Ontario.
"It was easily 8th magnitude or brighter as it passed by the 4th magnitude star eta Pisces," Fetter said. We'll just assume that means it was pretty.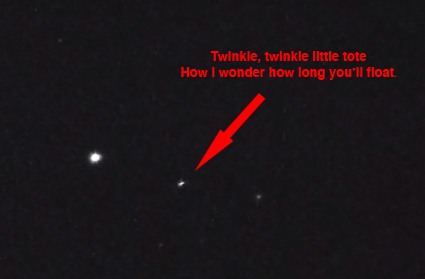 Those who mistakenly made a wish upon the falling tool bag on Sunday should assume the celestial manifestation of their fondest desires is presently null and void.
The tool bag was accidentally sent adrift on September 18, while Stefanyshyn-Piper was distracted cleaning a leaking grease gun during a spacewalk outside the International Space Station.
NASA caught some excellent footage of the wayward bag departing here
The flotsam is one of the largest items ever lost by a spacewalking astronaut. NASA estimates the missing bag and contents cost about $100,000 (apparently Louis Vuitton was having a sale).
Endeavour mission STS-126's astronauts promise they'll "double- and triple-check" to make sure everything is tied down on their remaining spacewalks.
The remaining two grease guns aboard the space station will be tethered to a larger bag, so they can't leak on other equipment.
Meanwhile, NASA has extended Endeavour's mission to the ISS by one day for additional time to fix the station's new urine and sweat recycling system that's been on the fritz. Obviously, it's a machine you want working correctly before having a pint. ®