This article is more than 1 year old
Parallels 4 users want their money back
Macs slowed to a crawl, users bent out of shape
Updated Parallels v4.0, billed as speeding Windows virtualisation on Macs, has been slated by some users for slowing their systems to a crawl instead. Some are demanding their money back.
Parallels software enables Macs to run Windows concurrently with Mac OS X as an application alongside other Mac OS X applications. Files can be shared between the two environments and external disks can be seen in both as well. Version four was released on November 4 and added things like a better GUI, support for up to 8-core processors, and better integration of Windows and Mac applications but the main billed event was the speed boost.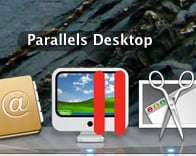 The upgrade process for existing users was complex and took an unexpectedly long time as existing virtual machines were converted but it is the slowness of the installed product which has surprised users.
Parallels desktop support has a note on its web page alluding to the sudden increase in the support call load: "Note: Due to the recent version launch, please expect extended delays while we continue to work around the clock to handle all requests."
Posts on the Parallels desktop forum reveal the users' discontent. User villox said: "I'm noticing that the VM is extremely slow ... taking a really long time to launch applications. Reboot takes forever."
Rebooting the Mac was suggested as a temporary fix but didn't work, as poster sdi noted: "Re-booting the Mac does seem to improve things but it comes back after a while and everything goes SLOOOOOW again. Today it took about three minutes to resume Windows XP Pro and everything was unresponsive during this time."
Poster solus chipped in with: "Currently, PD4 (Parallels Desktop v4.0) is absolutely useless. PD3 was lightning fast compared to this new version, and it's very disappointing." He said that it slowed down to a crawl in Coherence mode, in which the Parallels desktop window is hidden and the Windows application runs in an apparent Mac OS window.
User DiScO said: "I was all excited about this version but not so much anymore."
'eis76uk' was "very disappointed indeed with P4 ... I wonder if Parallels actually tested this before chucking it out, or did they just write it and hope for the best?"
A poster called nmetro@frii.com said removing the Parallels Internet Security software from the Windows XP virtual machine on his Mac solved the problem. No one else concurred.