Review In appearance, the Shuttle SG45H7 is very similar to the SN68PTG6 that we reviewed earlier this year. But, under the skin, it could hardly be more different.
The SN68PTG6 supports an AMD processor with an Nvidia chipset and graphics, while the new model is Intel all the way. The CPU socket is LGA775 for Core 2 Duo or Quad, or, should you prefer, an older Pentium D. The chipset is Intel's G45, which uses a GMA X4500HD integrated graphics core.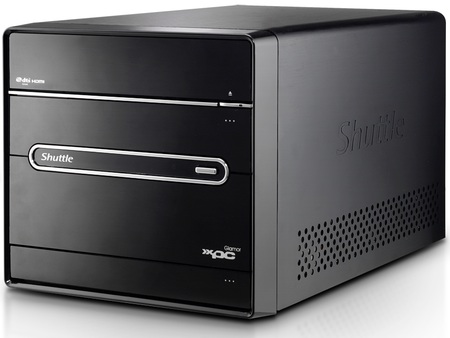 Shuttle's SG45H7 barebones: Intel all the way
This is a revision of the DirectX 10 GMA X3500 core from G35 chipset with a 65nm die shrink and an increase in unified shader count from eight to ten. The X4500 core has an HD suffix to reflect the improved high-def support in G45. Specifically, Intel has added Motion Compensation and Inverse Transform for the H.264 codec, as G35 already included these features for the VC1 and MPEG 2 video encoding technologies. The new part also gains Variable Length Decode support for all three codecs along with some post-processing features.
Intel previously supported HDMI with SDVO (Serial Digital Video Out) connection, which is based on PCI Express (PCIe), but the G45 now has integrated support for DisplayPort and HDMI. The chipset is capable of handling two digital outputs, but the Shuttle has a VGA port and a single HDMI port - there's an HDMI-to-DVI adapter in the box. During our testing we found that the analogue VGA output was indistinct and blurred so we stuck to the digital connection, which was crystal clear.
The layout of the SG45H7 is instantly familiar from previous models. Indeed, the photo of the ports and connectors on the back of the Shuttle is actually from the SN68PTG6 as it looks identical to the SG45H7. A flap on the front of the Shuttle conceals jacks for a headset, two USB ports and one eSATA connector.
The main cover is retained by two thumbscrews, and the drive bay is fixed with two more. Once that's out of the way you have full access to the innards of the barebones and it is quite simple to install your processor, memory and drives in less than 15 minutes.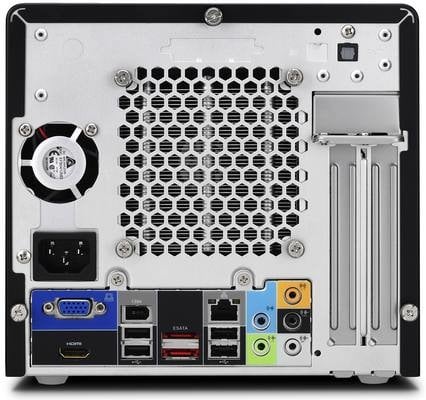 Same port array as the SN68PTG6
Perhaps you should allow a couple of extra minutes if you choose to install a graphics card as this can get a bit fiddly. The tiny power supply includes a six-pin PCIe connector so you have plenty of scope for adding a graphics card. But it's easy to get into a vicious cycle of heat, cooling and noise if you get too ambitious.