Review Today, we're looking at - literally - the Vuzix AV230 XL headset, a set of video specs that create a picture that's the equivalent of a 44in screen 2.7m away. Yet the goggles are small and light enough they'll slip into your pocket, begging the question – is that a 44in telly in your pocket, or are you just pleased to see me?
Vuzix develops eye wear for the military, so it should know what it's about. Making decent video specs means more than just working on the displays - it's the optics and the casing surrounding it all too. Vuzix likes to feel it has all the pieces to complete the puzzle.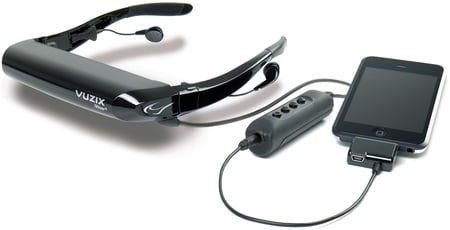 Vuzix's AV230 XL: military-grade tech?
The AV230 XL is the company's most basic model. The £130 unit uses two 320 x 240 OLED displays, one for each eye, with independent focus, should you have less than perfect vision.
Included with the glasses, is a carry bag, plus cables for the Nokia N95 and N96, iPod and a generic composite-video and audio input - yellow, red and white RCA jacks. The glasses themselves only support a composite-video source, so you get all the associated issues that you are used to seeing with TV-out from computers: blurry text, ill defined edges, poor colours and colour-bleeding.
We did most of our testing using an N95, and we even had issues with flickering and poor colour saturation, but we consider this to be mostly down to the N95 itself as other devices didn't show this problem to anywhere near the same extent.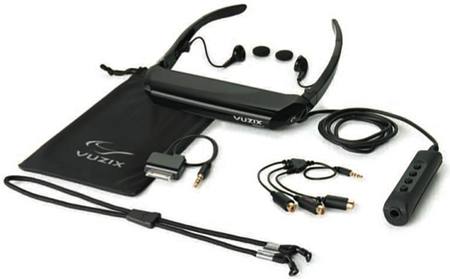 Plenty of bits in the box
One of the great aspects of using OLED displays is that the power consumption is really low. The AV230 XL runs off a single AA battery, and using the included alkaline battery you'll get up to seven hours of playback, Vuzix claims. Stick a Lithium Ion rechargeable battery in there and you can expect more like 17 hours. That's not bad at all, and using a standard like AA means it pretty easy to swap single-use batteries out for rechargeables, or buy them whilst out and about.