This article is more than 1 year old
HP HDX16-1000 16in multimedia laptop
Music and movie heavyweight
Review With laptop prices plunging, you'd expect a lot from a multimedia media machine that costs a grand, right? Well, HP has certainly jemmied a lot of tech into its new HDX, including a Blu-ray drive, a TV tuner and a 16in, 1080p full HD screen.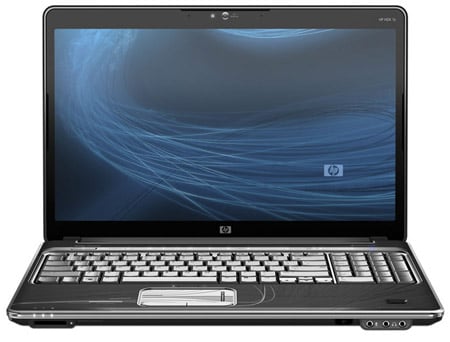 HP's HDX16-1000: Big spec, big price tag
The HDX16-1000 follows in the footsteps of last year's HDX20, which was another well-specced laptop but was a pig to move around. The sheer bulk of its screen and case meant it was more transportable than portable. HP has taken the hint and built similar hardware into two more-manageable form-factors: the HDX16 and an even bigger, 18in sibling.
Both have a gloss dark-grey cover with an appealing design of silver and charcoal lines drawn across it, and these continue on the surround to the touchpad and even onto the polished steel surface of the pad itself. This has to be one of the smoothest computer control surfaces we've run our fingers over and is beautiful to use.
The metallic caps of the full-size keyboard blend well into the overall design. Behind the keyboard is a strip of illuminated touch-sensitive controls, including sliders for volume, treble and bass. On the roght-hand side of the wrist-rest area there's a fingerprint reader, so there's no excuse for having your data read should your HDX16 ever be - god forbid - nicked.
The 16in screen, which has a default resolution of 1920 x 1080, is crisp and clean and presents vivid colours. It has a clear acrylic cover running over its entire surface, so there's no need for a bezel, though there is a border around the LCD. At this resolution, icon legends and other text is very small, we reckon on the downside of 6pt. Although it's pin sharp, reading help screens and other block text can get tiring.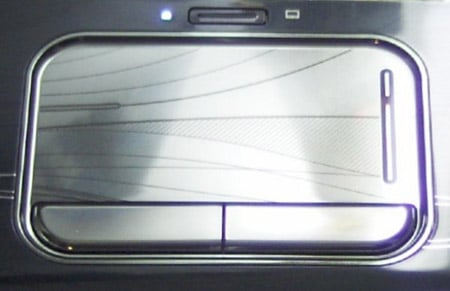 The touchpad is a smooth as a newborn's fundament
The HDX16's sound output is one of the best we've heard from a laptop. While the headlined "Treble Bass" feature refers more to the number of bass speakers in the Altec Lansing-designed sound system than how the bass sounds, there's certainly better low frequency response than you get from most portable machines, largely thanks to an integrated sub-woofer.