This article is more than 1 year old
Google - your source for FREE Adobe gear
Ad 'quality' meets scam shilling
Analysis With his ill-fated defense of Google's multi-million dollar Yahoo! handshake, chief legal officer David Drummond told Congress the search engine tie-up would rejuvenate the Yahoo! web with "better, more interesting ads." It's a common Google refrain. If you believe the party line, Mountain View's top secret advertising money machine rules the roost for one reason: an unswerving commitment to "quality" ads.
But as Google tightens its grip on the all-important search market - even without the Yahoo! pact - it's worth remembering that Google's commitment to quality goes only so far.
Take a moment to google "Acrobat" - or, better yet, "Free Acrobat." Each time you search on those semi-provocative keywords, you'll see a slightly different collection of ads running down the right hand side of the page. But chances are, no fewer than three ads - and maybe more - will offer you a free copy of Acrobat 9, Adobe's $200 PDF editing suite.
"Free Adobe Acrobat 9," one ad might say, "Instant Download of Acrobat 9.0 Latest Version. Hurry Act Now!" And if you look just below it, you may see another: "Free Acrobat 9 PDF Suite. Download Acrobat PDF Suite Now. 100% Safe, Fast, & Easy!" Each ad links to a different url - addresses like "www.PDF-9.info" or "www.Power-PDF9.com" - but they all make the same pitch.
Now click on them. You'll see that each ad points to nearly identical pages. And if you hit that big red button to get your free Acrobat 9 suite, you'll see that each site shuttles you to the same sign-up page at the same domain. And if you key your name, email address, and location into the form, you'll see that your free Adobe 9 suite isn't free. You're asked to key in your credit card number for "access and support." The ostensible fee is about $2.50 a month.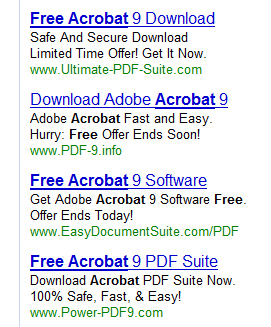 Quality ads?
It's not just that these ads violate the Federal Trade Commission's advertising guidelines, misleading the gullible with bogus claims. It's not just that they're breaking copyright law, selling pirated software. They also violate Google's very own AdWords policies, which prohibit double ad serving.
Adobe wouldn't discuss specific ads with The Reg. But it did say this: "We are aware of many such links that are served up as part of the Adwords program which can lead consumers to unauthorized sites, often duping them into divulging identity and personal financial information - including credit card and bank account numbers.
"There are NO authorized websites other than adobe.com offering Adobe products for download. So, if a consumer is taken to a site offering Adobe products for download, it is a reasonable bet the site is unauthorized and likely pirating our software."
Though Google did not answer our requests for comment, it's well aware this goes on. Adobe and its anti-piracy trade association, the Software & Information Industry Association (SIIA), regularly flag such ads. And if piracy is involved, Google will remove them - as it's required to under the Digital Millennium Copyright Act. But according to Keith Kupferschmid, senior vice president for Intellectual Property Policy & Enforcement at the SIIA, Mountain View tends to take its time.
"There's all sorts of scams and piracy going on with these sites, and we've tried to work with Google - and others; it's also a problem on Yahoo! - to get them taken down. And we've had some amount of success," Kupferschmid tells The Reg. "But our biggest complaint, especially with Google, is the amount of time it takes to take this sort of thing down. It can take upwards of three or four weeks, maybe even longer for Google to take them down.
"You can imagine the damage not only to the companies involved but to the consumers who are sucked in by these scams."
By contrast, if the SIIA sends similar takedown notices to eBay, the auction site typically responds within 12 hours - if not sooner. Sometimes, they respond within 5 minutes. "This is a good comparison," Kupferschmid said. "eBay is a very big operation."