Review As the muscular successor to the N95, it's no surprise that the N96 packs in a flagship set of high-end features.
It's beefed-up spec list pushes up the on-board storage capacity to 16GB and adds Micro SDHC expansion to a formidable spread of functionality that includes Wi-Fi and HSDPA high-speed connectivity, A-GPS satnav technology, a five-megapixel camera with Carl Zeiss optics, and a top-line set of Symbian S60 smartphone applications.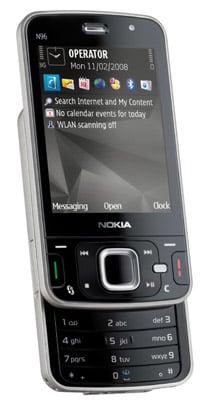 Nokia's N96: substantial
Although it has ratcheted up the feature count from the already well-endowed N95, the N96 has more heavyweight phone competition than the original N95 had when launched. With the likes of the eight-megapixel Samsung i8510 and LG Renoir, plus the iPhone 3G, it's got its work cut out to be a first-choice top-ender.
Sadly, one feature that differentiates it in some other markets – a DVB-H digital TV receiver – is redundant in the UK, as there are no commercial DVB-H broadcasts now or on the horizon. Instead, the N96 is one of the first N-series devices to arrive with BBC iPlayer pre-loaded.
With a 2.8in, 240 x 320, 16m-colour display dominating the front, the N96 is well set up for a decent video viewing experience.
Packing its meaty gadgetry in a two-way slider design that follows the N95's template, the N96 is a substantial handset. It's got a marginally broader footprint than its predecessor, measuring a chunky 103 x 55 x 18-20mm, but is a fraction lighter, at 125g. This reflects the lighter plastic used on the bodywork, which is more like the glossy black plastic look and feel of the N81 than the N95 8GB. The shiny front panel attracts finger smudges, and there's a slightly creakier feel to the buttons.