Review For a company that claims to be a leader in the field of video and multimedia, Apple has always had a strange blind spot when it comes to TV tuners. It's largely resisted building them into Macs, and doesn't even include one in its Apple TV set-top box.
Undoubtedly, it would rather sell you film and TV downloads from the iTunes Store than let you record your favourite TV programs for free. And with the Mac traditionally having a miniscule market share, most of the companies that manufacture TV tuners have tended to concentrate on the PC side of things.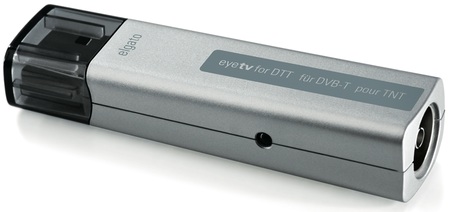 Elgato's EyeTV DTT: compact
That's changed of late, thanks to the Mac's increasing market share – and also to the success of the now video-capable iPod. That's created a big market for TV tuners on the Mac. Even traditionally PC-oriented companies, such as Pinnacle and Terratec, have started making Mac-friendly tuners. However, the reigning monarch of the Mac TV market is undoubtedly Elgato, with its well-established EyeTV range.
We recently reviewed the EyeTV DTT Deluxe, which is the flagship of the range and quite possibly the smallest TV tuner in the world. However, the Deluxe model does come with a deluxe price – around £70 – which can only really be justified if you specifically need that model's ultra-compact design - perhaps to accompany the ultra-portable MacBook Air.
For those of us that can't afford an Air, Elgato has also released an updated version of the standard EyeTV DTT tuner, priced at £40. That's just over half the price of the Deluxe model, so it's clearly the better choice for Mac users wh just want an affordable TV tuner.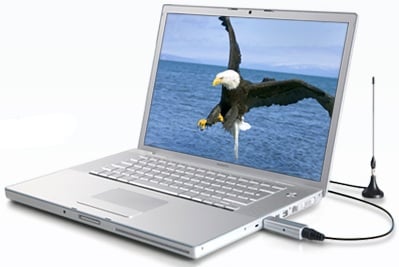 Comes with tilt'n'swivel aerial and co-ax connector
As the name implies, the EyeTV DTT is designed to pick up digital terrestrial TV ('DTT') signals, which, here in the UK, refers to the 40-odd channels included in the Freeview digital TV system. Digital reception across the UK is still quite variable, so you'll need to check the reception in your area before buying. If the reception's not very good, you may be better off with another product, such as the EyeTV Hybrid, which contains tuners for both digital and analogue TV, useful until the Digital Switchover.