Although this new version of the EyeTV DTT is smaller than its predecessor, it's still quite a bit bigger than the Deluxe, measuring 68 x 18 x 14mm thick, compared to 57 x 17 x 9mm for the Deluxe model. One of the key advantages of the DTT Deluxe is that its slimline design means that it won't block any of the adjacent ports on your computer - we've got the EyeTV Hybrid plugged into a MacBook, and it's so fat that we can't plug our iPod into the second USB port right next to it.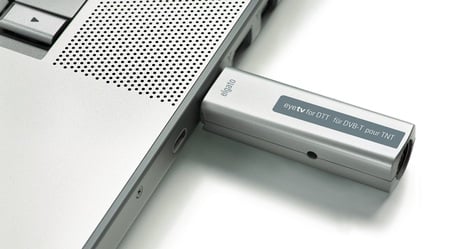 Won't block other ports...
Fortunately, the fact that the standard DTT is virtually the same width as the Deluxe means that it too can be plugged into a MacBook without blocking any of the adjacent ports. For many Mac users that fact alone will probably swing the choice in favour of the less expensive EyeTV DTT.
However, the lower price of the DTT does mean that it lacks a couple of additional features found in the Deluxe model. Instead of the flexible, extendable aerial supplied with the DTT Deluxe, the DTT has a simpler aerial with a magnetic base and a not-very-high-tech plastic suction cup for attaching it to flat surfaces.
If this small aerial doesn't provide good enough reception you can still plug in a larger, conventional aerial as the EyeTV DTT has a full-sized coaxial aerial connector built into it. The aerial provided with our review unit couldn't pick up the digital signal very well in our East London office, but connecting the tuner to the roof aerial wired into a wall socket provided much better reception.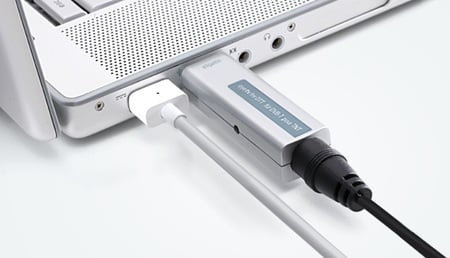 ...on either side of your Mac
The other missing feature is the remote control that's supplied with the Deluxe model, which means that you'll need to use a mouse to control the EyeTV recording software. EyeTV playback can be controlled by Apple's little remote control units, but the program's more advanced features need to be controlled with a mouse or Elgato's own remote. Fortunately, Elgato sells its remote control as an optional extra for an additional £10, which will still keep the total price just under £50.
Sponsored: Webcast: Ransomware has gone nuclear