However, the real strength of the Elgato range lies in the EyeTV software that the company includes with all its TV tuners. Elgato has always focused specifically on the Mac market – unlike rivals such as Pinnacle and Terratec, who sometimes struggle to understand the Mac way of doing things – and its in-depth Mac expertise is evident in the design of the EyeTV recording software.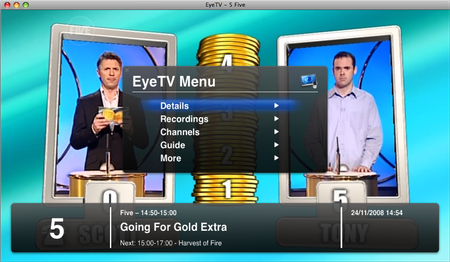 EyeTV: the best TV app on any platform?
As well as basic recording features, the EyeTV software includes an option called Smart Guides – similar to the Smart Playlists in iTunes – which allows it to scan its built-in programme guide to locate specific programmes that you want to record. As well as simply scanning for programme names, Smart Guides can also be configured to scan for well-known actors or directors, or even specific episode numbers, ensuring that you record just the programmes that you want.
Once you've recorded your programmes, you can easily export them onto devices such as an iPod or AppleTV, as the EyeTV software includes preset compression options for these devices, which can be activated simply by clicking on a button in the program's main toolbar.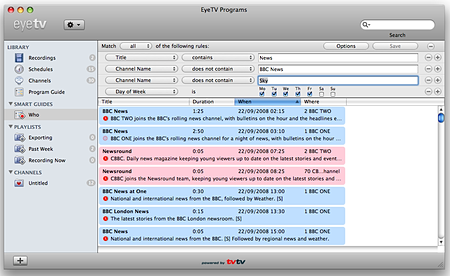 Search the programme guide for anything
We also like EyeTV's ability to share recordings over a local network. It can even stream shows over a wireless network, allowing you to watch recordings on an iPhone or iPod Touch while you slouch on the sofa. And, if you know you'll regularly be streaming files over a wireless network, EyeTV can be set to automatically convert your video files into a more highly compressed format in order to enhance streaming performance.
Verdict
To be honest, TV tuners in this price range don't really vary much in terms of their basic hardware features, and while the EyeTV DTT's compact design is very convenient it doesn't offer any special hardware features that you can't find in a number of rival products.
However, Elgato's ace-in-the-hole remains the powerful EyeTV software, which is easy to use and provides useful features for recording programmes and exporting them onto portable devices such as an iPod. That combination of affordable hardware and very versatile software makes the EyeTV DTT an excellent choice.
More TV Gadgets...
| | | | |
| --- | --- | --- | --- |
| Vuzix iWear | Elgato EyeTV Deluxe | Elgato Turbo.264 | 3M micro projector |
Sponsored: Webcast: Ransomware has gone nuclear

Elgato EyeTV DTT Mac digital TV tuner
Affordable, compact digital TV tuner with versatile recording software.