This article is more than 1 year old
Gov backs campaign to save Scott's Antarctic hut
£3.5m appeal needs your support
UK culture minister Barbara Follett has called for donations to save the base hut built by Captain Robert Falcon Scott and members of the ill-fated 1910-1913 "Terra Nova" Antarctic expedition, which famously ended in death for Scott and four companions.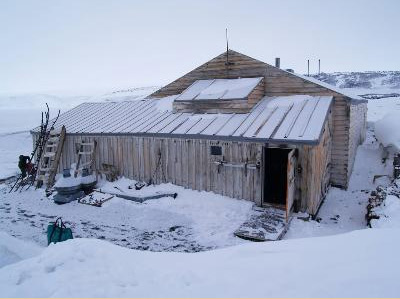 The government has already stumped £250,000 to the £3.5m United Kingdom Arctic Heritage Trust appeal which - in conjunction with the New Zealand Antarctic Heritage Trust - hopes to preserve the historic structure at Cape Evans on Ross Island (pictured right).
Unsurprisingly, the 1910 building has taken a bit of a battering over the years, and now needs urgent repairs to maintain the structure and the 8,000 artefacts it contains. Private British trust the February Foundation has also made a "substantial" contribution to the cause, and has pledged to match further donations to the tune of £1m.
Follett said: "The story of Captain Scott's expedition to the Antarctic is woven into Britain's history and it forms a really important part of our heritage. The hut those brave men stayed in at Cape Evans is now nearly 100 years old and it would be great if we could raise enough money to preserve it for future generations. Thanks to the generosity of the February Foundation this is now a very real possibility."
Scott's assault on the South Pole is indeed the stuff of British legend. On 17 January 1912 he and H R Bowers, Edgar Evans, Laurence "Titus" Oates and Edward Wilson reached their objective following almost five weeks' slog - only to find a Norwegian rival expedition led by Roald Amundsen had planted a flag at the pole on 14 December 1911.
The team now faced an 800-mile (1,300 km) return journey, severely hampered by the expedition's lack of dog teams - a resource the Norwegians considered indispensible*. On 17 February, Edgar Evans died. Laurence Oates's condition gradually deteriorated, and Scott noted in his diary:
"Friday, March 16 or Saturday 17 - Lost track of dates, but think the last correct. Tragedy all along the line. At lunch, the day before yesterday, poor Titus Oates said he couldn't go on; he proposed we should leave him in his sleeping-bag. That we could not do, and we induced him to come on, on the afternoon march. In spite of its awful nature for him he struggled on and we made a few miles. At night he was worse and we knew the end had come.
"Should this be found I want these facts recorded. Oates' last thoughts were of his Mother, but immediately before he took pride in thinking that his regiment would be pleased with the bold way in which he met his death. We can testify to his bravery. He has borne intense suffering for weeks without complaint, and to the very last was able and willing to discuss outside subjects. He did not - would not - give up hope till the very end. He was a brave soul. This was the end. He slept through the night before last, hoping not to wake; but he woke in the morning - yesterday. It was blowing a blizzard. He said, 'I am just going outside and may be some time.' He went out into the blizzard and we have not seen him since."
In November 1912, the bodies of the three remaining members, including Scott, were discovered in their tent, just eleven miles short of an expedition food depot. They'd been trapped by a blizzard on 20 March, and died nine days later of cold and malnutrition.
Scott's penultimate diary entry, dated 29 March, recorded: "Every day we have been ready to start for our depot 11 miles away, but outside the door of the tent it remains a scene of whirling drift. I do not think we can hope for any better things now. We shall stick it out to the end, but we are getting weaker, of course, and the end cannot be far. It seems a pity, but I do not think I can write more."
The diary concludes: "For God's sake look after our people." ®
Bootnote
*This is a controversial point, and the debate about the expedition's lack of proper planning will doubtless run and run.