The Advertising Standards Authority has ordered Tiger Beer UK Ltd not to rereun an ad which featured a rather fetching snap of a ladyboy punting the Asian throatwash.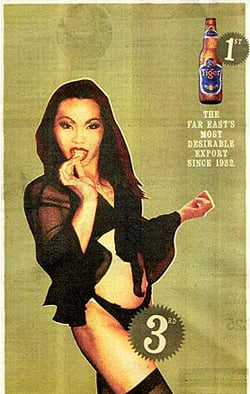 The advert - which ran in Metro and London Lite papers, as well as on posters - attracted eight complaints which insisted the image was offensive "because it linked 'exports' with a person in a sexually provocative pose, which they felt was inappropriate given reports of human trafficking for the sex trade".
Three of the complainants "also objected that the ad was offensive and disrespectful to Eastern culture because it implied beer and sex were some of the best things to come out of the region".
Tiger beer defended that the promotion "was intended to reflect Tiger Beers Far Eastern heritage and build on its position as the 'Far Easts most desirable export since 1932' by presenting it in the context of other recognised Far Eastern exports including ladyboys, tuk tuks, chop sticks and acupuncture, all of which were treated with the respect they deserved".
The company described ladyboys as "a famous export of the Far East worldwide", and insisted the image "was representative of a cabaret performer rather than a prostitute or model; throughout the campaign ladyboys had been celebrated and treated with the utmost respect".
London Lite said it considered the campaign "light-hearted" and suitable for its "young, urbanite London crowd" readers who wouldn't take offence.
The Outdoor Advertising Association said it had accepted the poster version as "light-hearted rather than offensive".
The ASA admitted that Tiger Beer UKs agency "had undertaken research that did not give them reason to believe the target audience were likely to be offended by the ad", but added it was "likely to be seen by many consumers outside of that target audience, particularly when appearing in the untargeted poster medium"
The adjudication continues: "We understood that the ads image was intended to represent a ladyboy cabaret act. We considered, however, that by presenting the character in sexual clothing and a provocative pose alongside the implication that she was rated the Far Easts third most desirable export, the ad appeared to link exports with the sex trade and, potentially, human trafficking.
"We also considered the ad suggested beer and sex were two of the best exports of the Far East, which was disrespectful to Eastern culture. We concluded that the ad was likely to cause serious or widespread offence."
The watchdog duly ruled that the advert breached CAP Code clause 5.1 (Decency) and ordered it "must not appear again in its current form". ®