Toshiba has followed in SanDisk's footsteps and launched a 16GB Micro SDHC memory card, the largest capacity of Micro SDHC currently available.
Mass-production of the SD-C16G SDHC card will begin in January 2009. Rival SanDisk was the first company to bring 16GB Micro SDHC cards to the market, earlier in 2008.
Toshiba's card complies with Class 2 of the SD memory card standard and so has a minimum write speed of 2MB/s, but it can go up to 6MB/s, Toshiba claimed.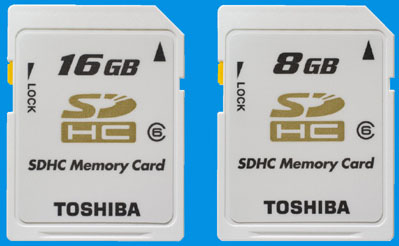 Toshiba's SDHC cards
If Micro SD is a little too fiddly for you though, then Toshiba's also announced plans to mass produce a 8GB and 16GB SDHC memory card.
Both cards are compatible with Class 6 of the SD memory card standard and so have minimum write speeds of 6MB/s. But Toshiba said they can write at up to 20MB/s write speeds. The 16GB SDHC card won't be out until April, but the 8GB SDHC will be available next month.
Prices for any of the three Toshiba cards haven't been announced yet.