Register Hardware's hacks are always tied to their keyboards, so going into the kitchen to prepare the morning toast is a right royal pain in the bum. So imagine our collective glee when we discovered this little number.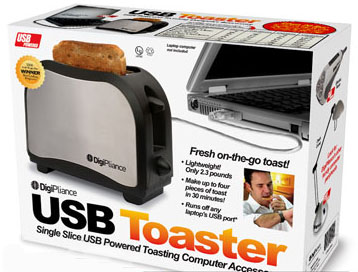 The USB Toaster. What an idea!
The techie toaster may only toast one slice of bread at a time and take between seven and nine minutes to do so, but we'd wait twice as long if it meant we didn't have to step away from gadget-land in order to spread out some Marmite.
In terms of toasting tech, the Toaster will apparently connect to your PC using a spare USB 2.0 port. But it also supports FireWire 400 and 800 connections for all your marmalade lovin' Mac owners.
Depending on how brown you like your bread, you'll even be able to use the bundled software - runs on PCs, runs on Macs - to remotely set the toaster's toasting level.
Although the toaster only popped up (pun intended) a short while ago, it's already been named as the Best Cooking Peripheral in the gadget industry's most prestigious cookery awards: the Golden Floppies.
Still keen? Sadly, we've got to admit that the USB Toaster isn't real. We're sorry to have made your stomach rumble, but it's actually a cunning ploy from US comedy site The Onion.
It's all about helping you trick tech-obsessed friends, because you can buy the empty box online for $8 (£5/€6) and watch with glee as they unwrap the USB toaster, only to discover that, actually, all they've received is the usual pair of socks.