'Leccy Tech German car maker Volkswagen is to accelerate development of its two-seat electric city car, it has been claimed.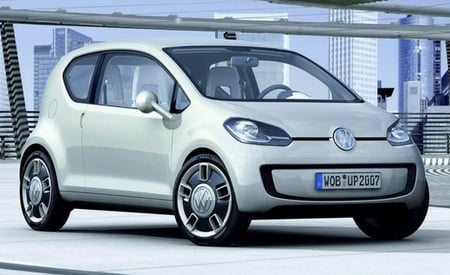 VW's up!: low-cabon ICE first, 'leccy later
Based on a modified version of the VW up! chassis, the new micro-car is tipped to be called the Chico and will initially feature a selection of high-efficiency three and four cylinder engines that in their most efficient guises will return over 140mpg and emit less than 60g/km of CO2, Autocar reports.
Planned to go on sale in 2011, the Chico is intended to sell for around £6000 in the UK, the mag says.
More interestingly, VW is also said to be working on an electric version - using battery technology from Toshiba - at a new electric vehicle development centre established by Volkswagen in Isenbuettel near its home town of Wolfsburg, Germany.
The up! chassis has already spawned one electrically powered concept, the "space up! blue", which VW claims uses the world's first automotive hydrogen high-temperature fuel-cell and an array of 12 lithium-ion batteries. When fully charged from the mains, the space up! can travel 65 miles using battery power alone. The fuel-cell is said to be good for another 155 miles, giving a total range of 220 miles before you need to find a power socket or someone to sell you some more hydrogen.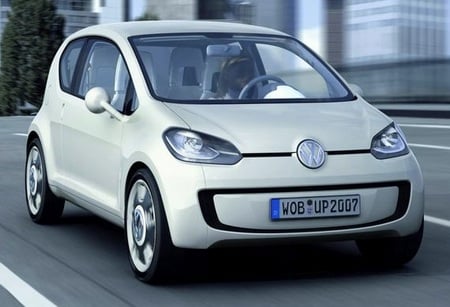 Accelerated development
Regenerative braking and a solar panel roof also help to keep the battery topped up.
Audi is working on an electric car based on the up! chassis too, so it's not beyond the bounds of reason to think that we'll see a selection is similarly powered offerings from the other arms of the Volkswagen AG: Seat and Skoda. The former is an especially likely candidate in light of Spain and Portugal's recently announced 'leccy car ambitions.
VW up! Picture Gallery