The Music Wars from 30,000 feet: Meet Chris Castle
'Don't expect another Bob Dylan'
The Future of Music: and how to get there
There is no silver bullet. There's a multiplicity of things to do starting with making it easier for legitimate businesses to license content - followed closely by pricing models with ISPs that will create financial disincentives to do a substantial amount of downloading. The biggest culprit is actually the ISP's flat fee for unlimited bandwidth.
If you created a charge for downloading material, I think you'd start seeing a lot of dropoff in illegal downloading. If it cost more to download, then you'd at least have the incentives set up correctly. There'd be an argument about how the profits would be split - but at least you've got the financial incentives going the right way.
Oh, the ISPs hate the hardcore freetards. They'd love to be able to cut them off - or at least the 24x7 downloaders - no matter what they say in public. Because a few people create all the traffic costs.
That'll happen. They have to find a way that doesn't turn it into China. If you look at people's traffic too much - or threaten to turn customers names over for prosecution - I can see how that has a certain appeal but that's not way to do it. It's a complicated question. And [any action] leaves you open to some charges of nastiness.
So don't sue the average user and don't totally disconnect them - downgrade their service features and make it inconvenient and costly to download unauthorized material. There will be people who'll say that there will always be hacks around whatever you do, but if you listen to that kind of thinking you'd never do anything.
I think the BPI has handled this well. By working cooperatively with ISPs, the BPI (and MPA) are dealing with people who have a stake in society, and who have to operate above ground. That's always good - find an ally who cares. Most ISPs don't want to be seen as bad guys. And it's persuasive – cooperation is good messaging for both sides.
One thing I like about Arts+Labs is that they foster a dialog between creators and technology companies that doesn't question fundamental rights. That's encouraging and is a real step toward extending the legitimate market.
Have you any reason to be optimistic about music in five years time?
In five years' time I think it's going to be an even smaller business at the major label level. I really hope I'm wrong, I would love to be wrong, but I don't think I am. Both major label and independent artists are going to be making more of their money from venue sales of records and merch. They'll be making some from digital, but there's a phenomenal amount of online clutter out there and getting heard above that clutter gets harder each year. I can't imagine what it's like to be the music supervisor for say Grey's Anatomy - the level of submissions must be overwhelming.
"Recorded music is something you give away in the hope of getting famous so you can get a big corporate sponsorship deal"
But I wouldn't say I'm optimistic. I'm optimistic there will be a business, and optimistic that part of it will not be dependent on digital distribution, which is a low margin business for everybody. Digital distribution is a Onesies and Twosies business and not album sales - and that's hard for the artist and for the retailer - you've got make it all happen out of about 20 cents on the dollar unless you can wrap lifestyle items around it or sell hardware. Artists dependent on digital sales are going to have a rough time. But what I'm really worried about is the influx of dependency on advertising and sponsorship.
When all music is deodorant advertising...
The corporatizing of music is starting to happen. I can't see this new music business producing another Bob Dylan - or anyone like that who openly defies corporatization. When I talk to artists who are young - 17 or 18 – many of them seem to have given up the idea of making money off recorded music. Recorded music is something you give away in the hope of getting famous so you can get a big corporate sponsorship deal. You'll have extreme commercialization on one hand, and the very indie-oriented artist on the other who rejects taking the king's shilling. There's not much in between.
It's hard to tour these days - getting significant guarantees is hard in a recession. Getting a per-show guarantee that's over $700 is a major accomplishment for an independent artist, and it's hard to cover gas, hotels and food with low guarantees. You have to sell merchandise and your CDs at the shows in order to survive, and you have to be good at it.
I really don't think there's any evidence the major label business is going to turn around in any meaningful way. And now we've got a global recession.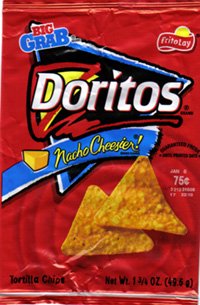 Nettwerk boss Terry McBride recommends Doritos
People are talking about the "middle-class musician" – that's about the best anyone can hope for because the depression in the music business has taken away the home run record with very few multiplatinum-selling records any more. If you're a new artist you just don't have a realistic shot at that, and less of a shot with every passing day. Until the market stabilizes - if it ever does - and some order comes back, record companies are either going to severely downsize even further than they already have, or someone's going to go out of business. ®