Group Test: AMD Radeon HD 4000 series
From 4350 to 4830 - budget graphics cards galore
Round up When AMD updated the RV670 chip used in the ATI Radeon HD 3000 series to the RV770 in the HD 4000 line, it went ballistic and increased the number of unified shaders from 320 to 800.
This change increased performance by a healthy amount and made the HD 4850 the apple of Register Hardware's eye. But that was only the start of the story.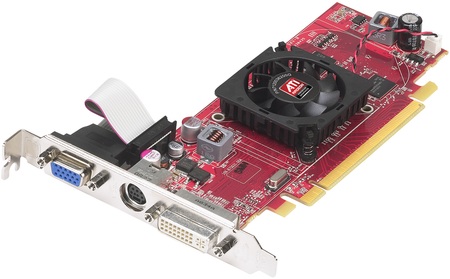 AMD's Radeon HD 4350: effectively one tenth of a...
The HD 3850 was a decent graphics card but the 320 shaders in the RV670 core didn't give AMD much scope to conjure up a range of products based on the same chip. In effect, the HD 3650 was three-eighths of an HD 3850 and had the memory controller halved to 128 bits. The lowly HD 3450 was a mere one-eighth of an HD 3850 and only had 40 shaders and a 64-bit memory controller.
AMD didn't have many options at the upper end of the scale as the difference between the HD 3850 and the HD 3870 was a simple matter of clock speed, and the increased power and heat of the HD 3870 required a hefty double-slot design. This left the range of HD 3000 products rather limited both in terms of performance and the spread of prices.
The RV770 chip changes the range of AMD graphics cards from top to bottom. At the high end, there's separation between the HD 4850 and the HD 4870 as the memory controller in RV770 includes support for GDDR 5, a new type of graphics memory that has double the bandwidth of GDDR 3. So 1GHz GDDR3 on an HD 4850 card has a 64GB/s bandwidth while the 900MHz GDDR 5 on HD 4870 has 115.2GB/s to work with.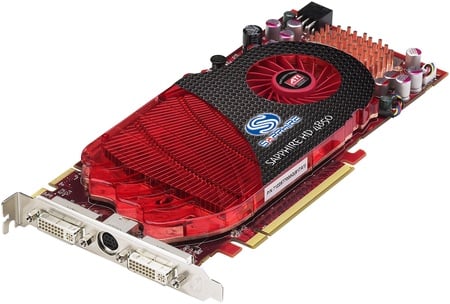 ...Radeon HD 4850
Add in a higher core speed and the HD 4870 has a handy edge over HD 4850, but it costs about £200 - a high premium when the HD 4850 typically costs £135.