Group Test: AMD Radeon HD 4000 series
From 4350 to 4830 - budget graphics cards galore
If you're in the market for a gaming graphics card then the HD 4850 and HD 4870 are strong contenders. But the fact of the matter is that most people don't want to spend significantly more than £100 on a graphics card, and this is where things get interesting. All of the chips we're covering today have the same features and support DirectX 10.1 as well as having a proper video core that's fully capable of handling HD movie playback without flogging your CPU to death. The interface is PCI Express 2.0 and the graphics card manufacturer can choose DVI, HDMI and DisplayPort connectors as it sees fit.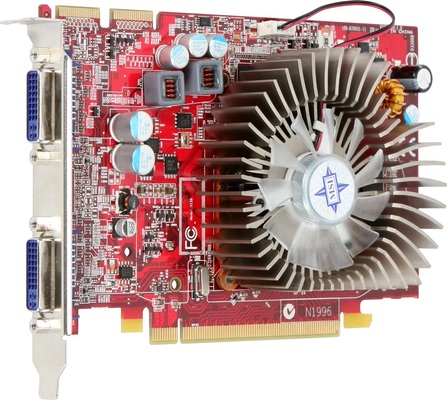 MSI's R4670: mixing and matching monitor ports
The differences between the models stem from the way that AMD has chosen to slice and dice the RV770 chip and its 800 unified shaders. Naturally, the width of the memory controller and the type of memory also play their part in performance. Similarly, the specification dictates the power draw, which, in turn, affects the amount of cooling on the graphics card.
We've already covered the HD 4850 and 4870 and their X2 variants at the top of the range, so we'll start at the bottom of the range and work our way up from there. We tested all of the graphics cards on a 3.2GHz Intel Core i7 965 Extreme system built around an Asus P6T Deluxe motherboard, 3GB of Crucial PC3-8500 memory and a Western Digital 1TB Caviar Back hard drive running on 32-bit Windows Vista Ultimate Edition.
We would have liked to stick to the latest Catalyst 8.11 driver to keep the playing field level but we hit a snag. The latest Catalyst 8.11 driver is appropriate for every graphics card from the HD 3870 all the way back to the Radeon 9550, but things get horribly confused when you look at driver support for the HD 4000 series. The HD 4850 and HD 4870 have been around for some time and are properly supported by Catalyst 8.11 along with the HD 4670, but the HD 4830, 4650, 4550 and 4350 all require Catalyst 8.10.
There's a further fly in the ointment as Catalyst 8.11 doesn't support the Core i7 platform. How annoying. We can only hope that Catalyst 8.12 sorts everything out.