Group Test: AMD Radeon HD 4000 series
From 4350 to 4830 - budget graphics cards galore
Radeon HD 4350 and HD 4550
The RV710 chip is one-tenth of the RV770, having just 80 unified shaders, a tiny 64-bit memory controller and an equally tiny power rating of 20W. For some reason, AMD has decided to call the DDR 2 version of RV710 the HD 4350, while the DDR3 version has been named the HD 4550. The 20W power rating means that both models have the option of passive cooling. However, the Sapphire HD 4550 that we tested is a compact card with a small active cooler. A small fan is usually a recipe for an annoying, buzzy design, but the Sapphire is amazingly quiet.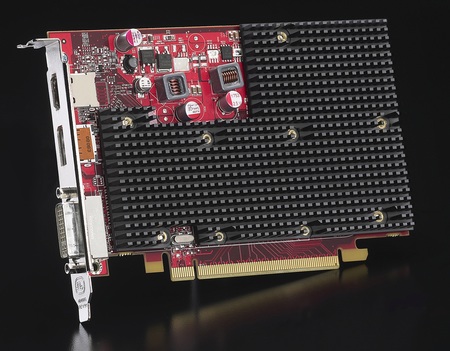 AMD's Radeon HD 4550: passively cooled
Although the gaming experience was nothing to write home about, we were pleasantly surprised that this £45 graphics card chugged through Far Cry 2 at 1280 x 1024 on Very High quality settings at an average of 15f/s. That's not fast enough to play the game comfortably but it's impressive that a budget card can make a decent fist of a modern game.
This is a proper graphics card with a 600MHz core and 512MB of DDR 3 that runs at 1800MHz. However, the 80 shaders restrict the performance to such an extent that it's really only of interest to the Media Centre brigade.
Radeon HD 4350
Reg Rating 75%
Price £35 Find the best online price
Radeon HD 4550
Reg Rating 70%
Price £45 Find the best online price
Radeon HD 4650 and HD 4670
The next step up is the RV730, which uses four chunks of the RV770 to deliver 320 unified shaders. The memory controller has been increased to 128-bit and once again there are two versions of the chip. The HD 4650 has a core speed of 600MHz and supports 512MB of DDR 2 memory with an effective speed of 1000MHz all wrapped up in a power requirement of 60W. The HD 4670 bumps the core speed to 750MHz in conjunction with 512MB or 1GB of GDDR 3 running at 2000MHz. These increases in clock speeds raise the power requirement to 75W so you're effectively getting a Radeon 3850 that has been updated for 2008.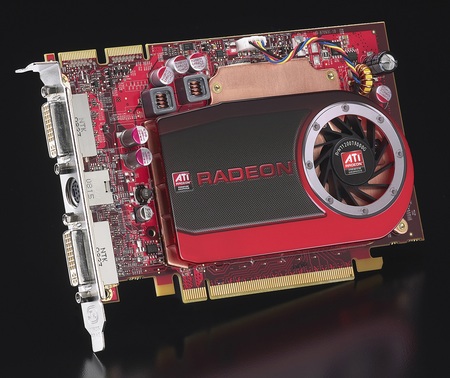 AMD's Radeon HD 4670: 320 unified shaders on board
It came as a major surprise that HD 4670 delivered lower performance than the HD 3850 across the board in our tests and the difference grew to silly proportions when we compared two HD 4670s in CrossFire with a pair of HD 3850s. We confidently predict that HD 4670 will blossom and flourish when AMD gets the drivers sorted but for the time being it's hard to see the appeal of the HD 4670 when the old HD 3850 does a better job.
Radeon HD 4650
Reg Rating 70%
Price £45 Find the best online price
Radeon HD 4670
Reg Rating 60%
Price £65 Find the best online price