Like the TT, the Z11's keyboard is of the lozenge type, but here the keys are larger and space further apart. They're also higher, which, with the spacing, will require some speed-typists take a short time to adjust to it. There's a little bit of flex to the board.

The lip at the front impedes access to the memory card slots
Above the main key array are two pairs of slots that sit about the Z11's voluminous speakers. Next to these, on the left, are two user-definable shortcut keys and, on the right, an eject button for the Z11's multi-format DVD writer, itself position on the right side of the machine. The LEDs usually found above the keyboard are here below it, tucked into the incline the rises from the plain of the keyboard to the plateau that is the wrist rest. So the lights are between the spacebar and the touchpad where, unless you have the screen angled at about 45° downward, you can't see what they represent.
Design over practicality? You betcha!
Not so the rubber blocks placed at either side of the keyboard to support the lid when it's closed. They do, but there's nothing to stop the screen bending in to touch the keys.
The touchpad is nice and large, covered with a pattern of dots that make look like a designer's cutting mat. It's otherwise a plain model that's sole nod toward the cutting edge of touch control are (unmarked) edge-of-pad scroll zones.
The front of the Z11 is home to power, hard drive and wireless LEDs, the latter above a cut-off switch, itself alongside the laptop's MemoryStick Pro and SDHC memory card slots. Unfortunately, Sony has placed these under a jutting lip which, while not making them impossible to reach when the Z11's flat on a desk, doesn't make them as accessible as they could or should be.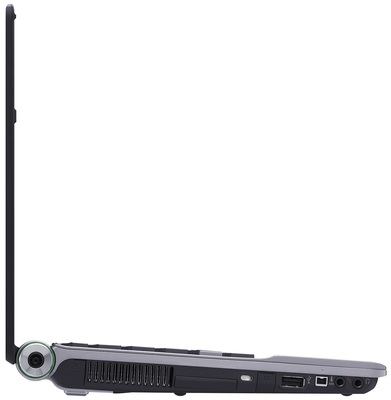 See how skinny the screen is?
On the left side of the laptop you'll find an ExpressCard slot plus 3.5mm audio, four-pin Firewire, USB, 56Kb/s and Ethernet ports, the last two under flaps. Sony doesn't believe you'll use these much - hence the flaps and hence the fact they're disabled by default. Use the handy Vaio Smart Network utility to activate them, or any of three radios - Bluetooth, 802.11n Wi-Fi and HSDPA 3G - the Z11 can come with.
Sponsored: How to simplify data protection on Amazon Web Services