As per the TT, the Z11's power cord slots into the end of the 'tube'. Again, it's rather more wobbly that we feel comfortable with, but with hindsight it's probably a good thing, helping to give the connector room to move if it's knocked or sharply yanked.
The far side of the tube is home to the Sony flavour-of-the-month green-lit power key, which sits next to VGA, HDMI, a second USB port and the optical drive.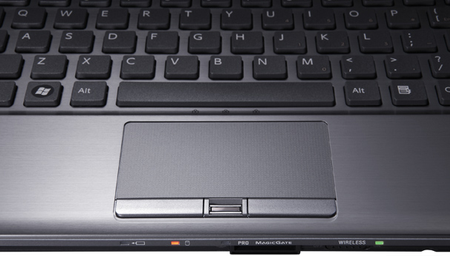 A rather basic touchpad
For a 13in machine, the Z11 is surprisingly light. It's 1.5kg, which is barely more than a MacBook Air (1.4kg). We'd have said, having picked them both up, that the Sony is the lighter of the two. It's certainly smaller than the Air, at least in terms of desktop footprint: 314 x 210mm to the Air's 325 x 227mm.
Out of the box, the Z11 scores a Windows Vista Experience score of 4.4, ranking 5.3 for the CPU, 5.9 for the memory, 4.4 for UI graphics, 5.1 for 3D graphics and 5.3 for its 250GB SATA hard drive.
Switch from Speed mode to Stamina, and the Experience score drops to 3.8, the integrated graphics core's 3D performance pulling the overall rating down, though the GPU does rate 4.1 for desktop graphics.
3DMark06 Results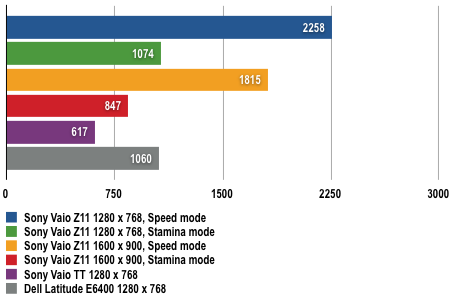 Longer bars are better
You can see the impact more clearly with the 3DMark06 numbers: at either of the two resolutions, the Nvidia GPU scores more than twice what the Intel one does, though there's nothing to choose between Sony's implementation of the Centrino 2 integrated graphics core and Dell's at matching screen resolutions.
Sponsored: Webcast: Discover and secure all of your attack surface