Review As mobile phones get more exotic and expensive the desire to expose them to risk reduces accordingly. Fancy using your iPhone while canoeing or white water rafting? Or your N96 while bouncing down a forest trail on a mountain bike? Thought not.
Step forward the two-way radio. Robust, durable, easy to use with your gloves on, with voice-activated hands-free communication independent of cellular coverage, and endless fun if you happen to know anyone by the name of Roger.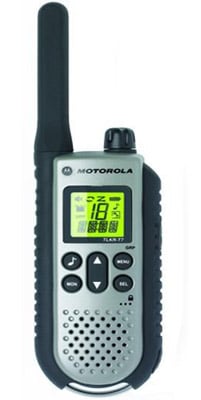 Motorola's TLKR T7: solid and robust
Motorola's TLKR T7 package consist of two radios with belt clips and a charger cradle that allows you charge both handsets simultaneously. You also get a couple of small plastic adaptors that will let you charge the batteries when removed from the handsets - handy as the radios will also operate from a couple of AAA disposables. Each handset also has its own 9V DC socket.
Each radio is a pretty chunky 53 x 30 x 202mm and weighs 178g with the batteries in place. Of course, that 202mm includes 75mm of flexible – and more or less unbreakable – rubber coated antenna but it still makes the T7 a little difficult to pocket. Just as well that the belt clips are robust and have a secure catch on them.
The military-lite looking rubber and grey plastic handsets shrugged off the worst we threw at them with no permanent signs of damage. The battery panel is a tight fit and no amount of throwing or dropping could dislodge it. Though not fully waterproof, all the sockets have effective rubber covers against splashed and dust. During our test, handsets got dropped into piles of wet leaves and a snow drift, all without ill-effect.
The lanyard loop at the bottom is an integral part of the handset so you can hang the thing around your neck with no fear if it coming adrift. The push-to-talk key and on/off/volume knob are both large enough to be easily used with ski gloves on, but you will need to take them off to use the smaller secondary controls on the front.