Review Elgato's EyeTV 310 isn't an entirely new product, but the recent launch of the Freesat satellite TV service has made it a bit more interesting for TV addicts here in the UK.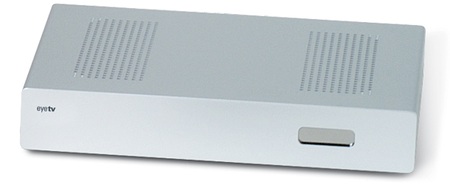 Elgato's EyeTV 310: now available over here
Most of the EyeTV range consists of conventional TV tuners – such as the recently reviewed EyeTV DTT and EyeTV Deluxe – that allow you to watch and record terrestrial TV channels, either analogue or digital, on your computer. However, the EyeTV 310 is one of the few digital satellite tuners that we've seen designed for use with personal computers – and the only one available for the Mac. It's also the most expensive product in the EyeTV range, costing a somewhat eye-watering £240, compared to just £40 for the EyeTV DTT.
It's a lot bigger too. Instead of the compact design of the EyeTV DTT, the 310 looks like a small set-top box, measuring 220 x 155 x 3.6mm. That means you won't be slipping it into your bag so that you can watch TV when you're on the road with your MacBook laptop.
In fact, you won't be using it with the new MacBooks at all, as the EyeTV 310 uses a Firewire interface to connect to the host machine, rather than the USB port used by most conventional TV tuners. Apple has dropped Firewire from the new MacBook models that it released recently - though not the more expensive MacBook Pro - and seems to be losing interest in Firewire altogether, which doesn't augur well for the EyeTV 310's long-term future.
In addition to its Firewire interface, the EyeTV 310 also has an antenna connector that can accept an RG-6 coaxial satellite cable. This allows you to connect it to the feed from a Freesat satellite dish or from a comparable satellite system such as a Sky+ box. We yanked the cable out of our Sky+ box and switched it over to the EyeTV 310 and were able to pick up Freesat without too much trouble. Of course, Freesat isn't the only satellite service available in Europe, but it's the only 'free to air' service that's made any real progress here in the UK, so that was our first port of call.

Connects by Firewire
Setting up the EyeTV 310 took just a few seconds, as you simply need to plug in the power, Firewire and satellite cables, but tracking down the Freesat broadcasts took a little longer. If you use an ordinary terrestrial TV tuner then the 'Auto-Tune' option built into Elgato's EyeTV software will automatically scan the airwaves to detect the TV signals available in your area. However, picking up broadcasts from an orbital satellite is a slightly more complex process, and the skimpy Quick Start guide supplied with the EyeTV 310 doesn't provide very much help here.