Nuke-nobbler raygun 747 in first full-power blast
Soon to fry the unfriendly skies
---
US aerospace globocorp Boeing is chuffed as ninepence today to announce the first full-power firing of its jumbo-jet-mounted, ICBM-toasting ray cannon - the Airborne Laser (ABL). The system saw "first light" in September, but this is the first time the big laser's knob has been turned up to full.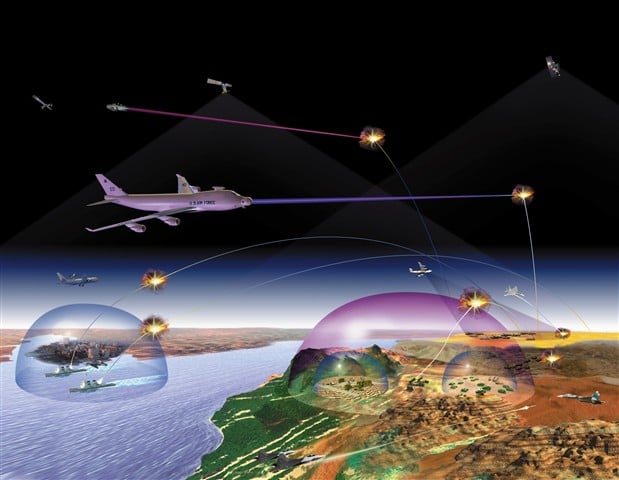 ABL - if it flies, it fries
"This test demonstrated that the Airborne Laser missile defense program has successfully integrated the entire weapon system aboard the ABL aircraft," said Scott Fancher, jumbo-blaster veep at Boeing.
"The team has now completed the two major milestones it hoped to accomplish in 2008, keeping ABL on track to conduct the missile shootdown demonstration planned for next year."
Zapper-boffins at Boeing will now carry out further ground blasts, gradually extending the amount of time the beam is kept on. Provided that there's no bother with these, flight tests will be the next step - culminating with a shootdown of an actual intercontinental missile.
The ABL uses a large, chemically-fuelled laser in the rear half of its 747-400F freighter airframe. The beam generated here passes through management machinery in the forward half of the plane, and then through a swivelling turret in the nose which aims it at its target.
The laser plane is intended by the Missile Defence Agency to play its ray on the fuel-packed rocket stacks of enemy ICBMs as they boost upwards from enemy launch sites. Advocates of the programme suggest that this is a particularly good time to blast WMD-tipped missiles, as any tricky multiple warheads, decoys etc have had no time to come into play.
Critics, however, point out that a large fleet of extremely expensive jumbo-blasters would be required to maintain patrols within striking range of likely launch sites. Furthermore, any silo or pad located deep within a national interior would require the ABLs to intrude on hostile airspace, possibly precipitating the very attack they are designed to prevent.
On top of all that, the chemical fuelling requirements of the laser fleet would be a severe logistic problem, as the necessary stuff is highly corrosive and toxic - as are the waste products produced during firing.
The ABL programme appears to be closing in on a test at long last, following a number of years in which dates moved back pretty much one for one. However, the laser jumbo's future is far from certain. Democrats in Washington have declined so far to provide the funding that the Missile Defence Agency has requested for its initial planned ABL fleet, and the programme is something of a lame duck compared to more popular efforts like the Standard SM-3 naval missile - which successfully shot down a malfunctioning US spy satellite this summer.
With a new and less hawkish president shortly to take up office, and US government finances headed for a particularly bad period in the near future, the ABL may be going nowhere no matter how well its test programme is proceeding right now. ®