Review Apple's MacBook Air may have put off some potential purchasers by eschewing a built-in optical drive, but it's not the only laptop to do so. The whole new wave of Small, Cheap Computers skimp on opticals for size and price reasons.
Which is good news for makers of external optical drives, among them LG. Where once it would have punted its GP08 slimline DVD writer at folk looking to add DVD technology to a CD-only machine, now it has a swathe of netbook owners looking for an external drive to install software and back-up downloads. And to be able to take it with them when they're out and about.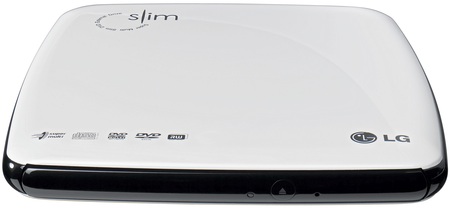 LG's GP08NU10: portable burner for your MacBook Air
The GP08's not the highest spec DVD writer we've seen, but since it's being sold on its size and portability rather than its performance, that's perhaps less of an issue. The LG is an 8x drive - depending on disc format, of course - and while we have a 16x drive in the office which we use for testing netbooks, it's a clunky, chunky big black brick of a unit with a big, laptop-style power brick.
By contrast, the svelte GP08 is half as high, three-quarters of the depth and considerably less heavy. It only weighs 380g. Power comes straight over USB - there's a second cable in the box if you need power from two ports - so there's no AC adaptor to lug around.
All it lacks, from a portability perspective, is a handy slip case to stop it getting scratched and bashed in your backpack.
In addition to the two USB cables - one terminates in a standard mini USB connector, the other with a slim cylinder that goes in the GP08's power port - the drive comes with a disc full of Windows software for doing back-up runs, playing and mastering DVDs.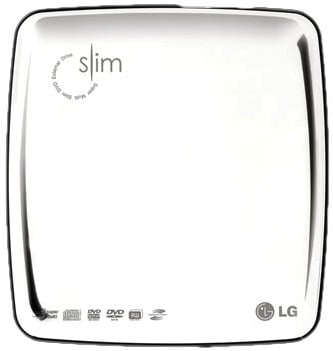 Bus powered
With an eye on the MacBook Air owner, LG touts the GP08's Mac friendliness, but that doesn't extend to providing any software. Mac owners can make use of commercial apps like Toast or open source alternatives, such as Burn, but they'll have to track these down and, where necessary, pay for these themselves. Linux users are likewise left to fend for themselves.
The only difference between the GP08 and the otherwise identical LG GSA-E50N, is Mac compatibility, LG told us. The LG offering has marginally better specs than Apple's own MacBook Air-oriented external DVD drive, but is around £15 cheaper.