This article is more than 1 year old
What have we learned about managing outsourcing?
Keeping the balance of power in-house
A few years ago, I was talking to a quite senior chap in a well known IT outsourcing firm. "Trouble we have," he said, "is that we've got all the good people." Seeing the flummoxed expression on my face, he went on to explain. "It meant there was nobody left inside the organization to work with, who had any clue what we were doing."
It's true that one can have too much of a good thing. And the wholesale outsourcing of entire IT departments has generally been accepted as a bit of a learning experience for all sides. What's interesting today of course, is that many of the contracts set up a decade ago are now coming to an end. The world is a very different place. Its not just outsourcing – we've lived through the offshoring wave, and its own backlash, before arriving at the conclusion that there ain't no single tool that's right for every job.
From our research, we know that selective outsourcing is seen as a good thing – and most interestingly, that it is more in vogue for more 'progressive' IT departments, that is, those seen as playing a strategic role in their own organizations.
It makes sense that such departments are better placed to make the right decisions about what should stay in-house and what should be outsourced. This factor underlies more recent developments such as multi-sourcing - using a variety of companies - and out-tasking (being more selective about which activities are to be sourced externally).
The goal of progressive organisations is to recognise where is the business value of specific activities, and to source them accordingly – keeping higher-value activities in house, and outsourcing lower-value activities. A make-or-break factor concerns the balance of control, and here we can report some good news.
In a recent Register poll we asked which activities organisations want to keep in-house; and number one on the list was project management – only a tiny proportion suggested they would outsource all such activity in a wholesale manner (Figure 1). This suggests that, while a variety of workloads may be sourced externally, their management is not one of them.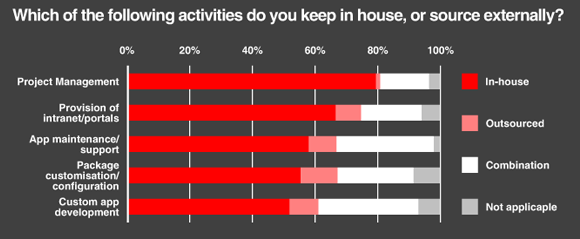 We need to keep this in proportion – not all project managers will be the pick of the crop, for example. But this is a positive sign that organizations have learned some lessons from the past.
In the future, there is more risk. Traditional sourcing of services has tended to be people-centric, that is, "I can do something in-house or I can get someone else to do it for me." If you believe the hype around software-as-a-service, cloud computing, hosted services and so on, you can see a sourcing model which is more technology-centric, for example, "I can get something done in those systems over there rather than these over here."
The main danger, then, is of falling into the same trap as we did a decade ago, which is to blithely adopt external services of any form without considering the longer term ramifications. We have already heard anecdotally of one retailer, dependent on a set of third party services, and being hamstrung because the service provider has decided it isn't cost-effective to extend the platform in the way the retailer needs. This sounds awfully like the kind of issue we saw back in the days of wholesale outsourcing.
To end with a gratuitous Bill Bailey quote, "And the whole scene unfolds with tedious inevitability." Should organizations start to adopt hosted services in any meaningful way, it would be such a shame to see us repeating the mistakes of the past because we haven't learned from them, or indeed because we have failed to appreciate the similarities in what is happening in the present.
It has taken us 15 years to start getting outsourcing right, typified by the more 'progressive' IT departments we have found. So, as we look to new ways of sourcing services, particularly in these troubled times, let's do so for the right reasons, considering the longer-term ramifications of any decisions we make today.