Updated Nokia's iPhone rival for 2009 will have a familiar feel to it - the phone giant is borrowing designs first brought to market by rivals such as HTC with its N97, announced in Barcelona today. However, Nokia's superior engineering means that it's considerably smaller than devices from its Asian competitors, weighing in at 150g and just 55mm thick. I've had a hands-on since filing earlier this morning, and it's positively svelte. The photos don't really do it justice.
What I found most impressive is that users simply looking for a no-nonsense, practical tool will find the N97 is worth a second look. In some ways, it's the real heir to the Communicator. Nokia was close to launching a QWERTY Communicator with a touch screen (based on S90, the "Hildon" user interface) five years ago - but never brought it to market.
The rest of the specification for what is Nokia's second S60 touch screen phone (a 640x360 screen) matches its current high end: 5MP camera and GPS, for example.
Talktime, thanks to the 1500mAh found in the E71, is claimed to be five hours 20 minutes on 3G networks.
But did anyone really buy an iPhone for its swanky specifications? Its graceful UI and superior usability (for most tasks) are what show up Apple's clunky competitors. And here Nokia has realised it needs to do much, much better than it has. The answer here is widgets.
There's a drawback, evident from the illustrative screens: they're cluttered and each widget doesn't really present very much useful information. It's the CNN approach to information overload - just overload the user with even more.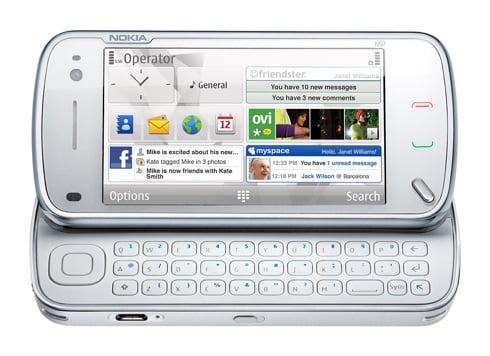 You can fiddle with your widgets
You can clear the clutter by pressing the profile indicator panel ('General' in the picture above), and swiping it to one hand. The widgets are customizable.
The positive news is that a lot of work has gone into usability at Nokia. You can text or call a "speed dial"-style favourite contact from the home screen in a couple of steps. Basic operations in the calendar are also made easy. Nokia says a lot more work will go into this before release next year.
The widgets can run as full screen applications, Nokia confirmed to me. This should close the application deficit with the iPhone/Touch. (What deficit, you're thinking. S60 has far more applications, but Apple's devices can boast superior applications for services people use quite a lot, such as eBay and Facebook).
The hinge is the Achilles heel of such designs. I found the early prototype today to be sturdy, sliding firmly into place. One caveat - the ribbon is exposed when the device is open.
I tried the pocket test. Weirdly, it felt less bulky to me than the (original) 2G iPhone. I can't really explain that - it's 17g heavier than an iPhone 3G and both taller (at 117.2mm) and wider (at 15.9mm). It could be the shape, the mass or simply the material.
Nokia said it had sold 15m N95 handsets in two years; Apple sold 6.9m iPhones in the last quarter alone. But with the N97, Apple now needs to work on some of the dafter omissions from the iPhone: cut and paste, and MMS in particular. ®