Review Samsung is getting serious with its cameraphones. Having recently landed its first eight-megapixel phone in the UK, the i8510, it's now doubled its tally with the Pixon M8800, its debut 8Mp touchscreen phone.
Jostling for position among a small but growing band of eight-megapixel new-wavers, including the Sony Ericsson C905 and LG Renoir, the Pixon is most likely to draw direct comparisons to LG's device. The Pixon opts for a now-familiar minimalist look. It has an elegant design, with a mainly black plastic and metal body dominated by a 3.2in, 240 x 400, 262,000-colour display.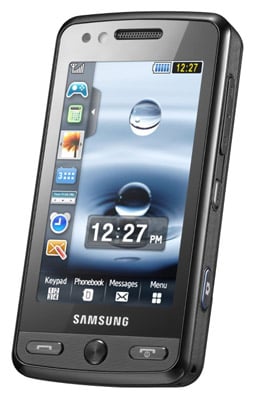 Samsung's Pixon M8800: minimalist look
As far as touchscreen operation is concerned, the Pixon is more like an upgraded Tocco than Samsung's other recent touchscreen big-hitter, the Windows Mobile-powered Omnia. It uses a similarly straightforward user interface as the Tocco, but it has introduced enhanced 'online widgets' for the home screen that add web-based mini apps such as weather reports and Google search.
Unlike the LG Renoir, there's no Wi-Fi support on the Pixon. There is still HSDPA 3G, however, of the 7.2Mb/s max variety.
Samsung claims the Pixon is the World's slimmest full-touch eight-megapixel cameraphone, courtesy of its 13.8mm profile – a sliver thinner than the LG Renoir. But despite its skinny look, the Pixon hasn't passed up on any of the shooting abilities of its chunkier i8510 smartphone stablemate.
With a larger display than the Tocco's 2.8-incher, the Pixon is a taller handset than its stablemate, with a 107.9 x 54.6 footprint – a fraction slimmer than the Tocco and Renoir, and smaller all-round than the iPhone 3G. It weighs in at 122g, making it a slightly heavier handful than the Renoir, though its dimensions make it reasonably comfortable to pocket.
Similar topics