The accelerometer provides a novel tilt mechanism for moving from one image to the next. It works, but can get irritating when you've accidentally jolted images along for the umpteenth time. You can search through images too, and upload them to a variety of online websites and blogs using the pre-loaded Shozu app.
Videos clip can be uploaded too, though lack of Wi-Fi means its slower than it could be. The Pixon can capture video at 640 x 480 and 720 x 480 (WVGA) both at up to 30f/s. Or you can shoot 320 x 240, 120f/s footage for slow-motion playback. Playback looks great on the phone and on a PC. Again, there are some tidy editing facilities to trim and splice clips, and a soundtrack.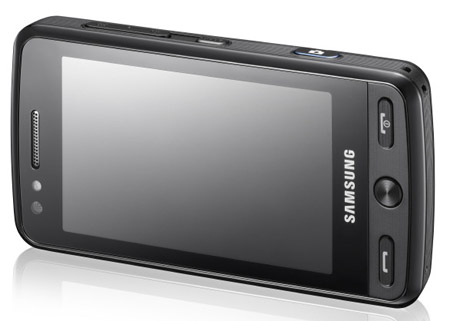 The accelerometer proves useful by adjusting the screen from portrait to landscape
The Pixon supports MPEG 4, WMV, DivX and XviD, and software is provided to convert files first. However, Samsung hasn't packaged this device with iPhone-bothering levels storage capacity. There's 200MB of internal user memory plus a 1GB Micro SD card included in the box, though 8GB cards are supported.
The music player can still do a fine job, and is well capable of pleasing your ears. The touch interface is uncomplicated and intuitive, with familiar control buttons and track categories to choose from. The performance of the bundled in-ear earphones is rather good - they deliver a full and detailed sound, with plenty of bass.
An adaptor is supplied for a standard 3.5mm headphone jack, so you can upgrade your ear-gear. Though the phone uses a typical all-purpose Samsung headset/charger/USB connector, at least it sits on top of the device rather than the side. Wireless Bluetooth earphones can also be used too.
The Pixon has a GPS receiver, though its contribution is limited by the software. Google Maps is included, with its neat location, routing and service finding that combines with the A-GPS system for exact positioning. It's a useful extra to have on any phone, though it's not the sort of step-by-step voice-guided satnav package you can get for high-end smartphone devices.
Similar topics
Narrower topics