Samsung has included Access' NetFront browser, which does a reasonable job on HSDPA at delivering web pages speedily. Sites render quickly and you can move the page around pages and tap to open links with your finger. You can also tap a panel or use the volume keys to operate the zoom. It's not as swishy or as smooth as the iPhone's Safari browser, but it gets you around. RSS feeds are supported, and there's a typical selection of office, document viewer and organiser tools are pre-loaded onto the Pixon too.
We experienced no problems with voice calling on this device, getting good audio levels and perfectly reliable signal holding. Calling using the virtual numberpad is almost like the real thing too – it's nicely set up to use as a phone as well as a multimedia device.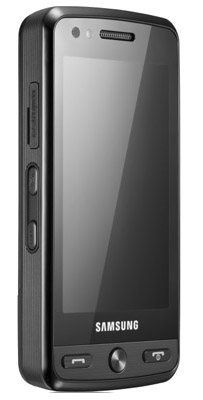 If you're a Mac user, you'll need Bluetooth to transfer files
Samsung estimates the battery performance on this quad-band GSM/GPRS/Edge and WCDMA 210 device to be better than the Tocco. On 3G networks, it reckons on up to four hours' talktime, or 280 hours on standby, or with GSM coverage figures of 430 minutes talktime or 310 hours standby.
With plenty of gadgetry on board to sap juice, how much you play with the Pixon will determine how much battery life you'll get out. Our average levels of usage delivered a couple of days of power before we needed to recharge the phone, though with much use of multimedia we were sometimes looking at daily top ups.
Verdict
We were bowled over by the performance of Samsung's i8510, and the imaging quality of the Pixon is equally impressive - and you get a lovelier user interface, more display room and even more snapping features.
But this Phone more like an upgraded Tocco than a smartphone: it doesn't have such a full range of apps and the lack of Wi-Fi is disappointing. It's still no iPhone, but if imaging performance is high on your list of buying criteria, the Pixon is an appealing handset choice.
More Phones...
| | | | |
| --- | --- | --- | --- |
| Samsung Innov8 | LG Renoir | Samsung Tocco | HTC Touch HD |

Samsung Pixon M8800 8Mp cameraphone
Samsung puts imaging at the centre of the touchscreen Pixon. But why no Wi-Fi?
Price:
Contract: from free to £300. Handset only: £370-420 RRP
Similar topics
Narrower topics