This article is more than 1 year old
Orbitsound T3 mobile 3D stereo speaker
Get a 3D music soundscape wherever you go
Review Music production has quite an armoury of spatial effects to tease the ears with but, typically, for the best experience, the listener needs to sit in the sweet spot. The Orbitsound range is designed to deliver a spatial soundfield anywhere in the room and now, with the T3 mobile stereo speaker, you can take that soundscape wherever you go.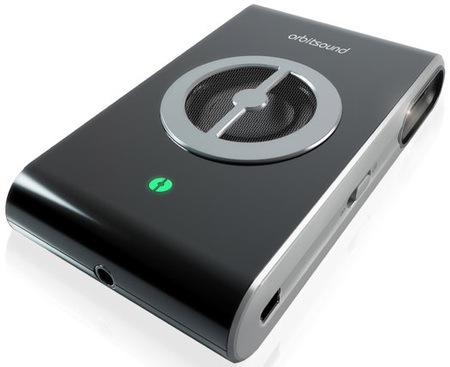 Orbitsound's T3: mobile sound projector
About the size of a packet of ciggies, the T3 is quite a stylish gadget, albeit alarmingly lightweight. The central 'main' speaker and power indicator LED, adorn the front panel. Each side features a sound port to deliver stereo audio with the aid of a second, hidden, "coincident dipole" speaker that's mounted diagonally, effectively projecting out of the side.
If this doesn't make much sense, don't worry. We'll let airSound - the company behind the Orbitsound's technology - explain its inverted approach to Alan Blumlein's M/S (middle and side) stereophonic recording experiments in more detail here.
On one side of the fake metallic finish is the power switch and a mini USB socket that hooks up to the supplied mains charger. Alternatively, the internal lithium-ion batteries can charge from a computer's USB interface. The other side features the airSound mode selector: Off, Normal and Max. At one end, farthest from the sound ports is the minijack input (cable included). At the other end is a loophole to thread a supplied lanyard through, enabling the Orbitsound T3 to be hung round the neck. There's no volume control as the sound level is determined by the host device.

Volume controls unnecessary
At this point, visions of teenagers on tubes and buses blaring out their idea of music from mobiles and iPods seems a distinct possibility and, quite frankly, Hell on Earth. No doubt, this is exactly the market Orbitsound has in mind. So, it's time to disable old git mode and give it a try.
The T3 can be used in two ways: round the neck, for a mobile sonic sensation, or on a flat surface. With the latter, the 'surface effect' of acoustic propagation comes into play, which effectively bolsters the T3's sound reproduction. On a table alongside a laptop, the T3's knack of projecting sound is evident, giving it considerable presence. Our laptop speakers, while acceptable, sounded decidedly subdued by comparison.