Thought-operated game controller delayed
Epoc not working as planned
---
Launch of a headset that lets gamers control videogames using their brainwaves has been delayed, because the device doesn't... er... work as planned.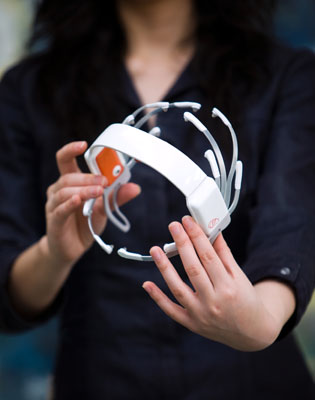 Emotiv Systems' Epoc neuroheadset: delayed until next year
Emotiv Systems' Epoc neuroheadset was paraded before drooling journalists in August this year at the Intel Developers Forum (IDF), along with a promise that it could detect the user's brainwaves at the skull surface in order to manipulate objects in a game.
The only trouble was that it didn't - a fault which the firm later blamed upon interference from other wireless transmitters at the IDF.
Nonetheless, Emotiv promised that the headset would be out in time for Christmas this year, priced at around $300 (£300/€235).
However, a spokesperson for the firm has since told website Big Download that Epoc now won't be available until the company get working the way it wants it to, which is likely to be some point in 2009.
Christmas Day looks set to be much more mundane now.