Appletops may get juice pump
Liquids predict toasty future
---
The latest Apple patent to surface points out that the upcoming mobile round of Intel's Nehalem chips may require more cooling mojo than the current Penryn line.
On November 27, the United States Patent and Trademark Office published patent application number 20080291629, originally filed by Apple on May 22 of last year and entitled "Liquid-cooled portable computer."
The application's abstract describes a "computer system" that "includes a power source that is coupled to a heat pipe, where the power source includes an integrated circuit" and in which a "pump...coupled to the heat pipe is configured to circulate the liquid coolant through the heat pipe."
The filing goes on to describe three possible types of pumps: a traditional mechanical pump, an electrostatic pump, and a mechanical variant that uses a vibrating membrane to circulate the liquid coolant. The coolant would transfer heat from the processor and associated circuitry "to a heat exchanger coupled to the heat pipe...configured to transfer heat from the heat pipe to an environment external to the computer system." Hopefully, that external environment won't be your lap.
Leaving aside the leakage and subsequent system-destruction problems that Apple encountered when it first used a liquid-cooling scheme on select Power Mac G5s earlier this century, the obvious question is why Apple would want to move away from reliable if less-efficient air cooling to the more problematic world of liquid.
Apple's filing answers part of that question when it notes that "Portable devices, such as laptop computers (notebook PCs), cellular telephones, and personal digital assistants have additional design constraints which make it even harder to manage thermal load...Furthermore, battery life constraints in such devices may limit the available power for active cooling mechanisms, such as fans."
In other words, the "portable computer" of the filing's title need not merely be a laptop, but any sort of mobile device, be it a pocket-able platform such as the iPhone or a mobile internet device (MID) such as a tablet or pint-sized netbook. Although the filing's schematics clearly refer to a laptop, Apple is apparently laying the groundwork for future cooling needs.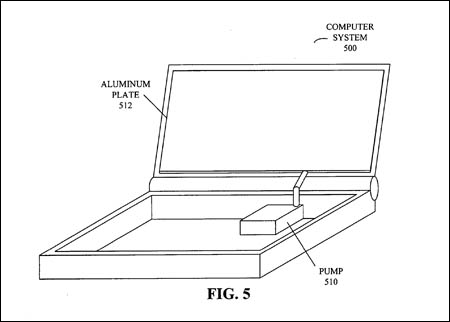 The next MacBook Pro, pre-Jonathan Ive
The most immediate of those needs will be in the four-core mobile-processing future, scheduled to begin late next year when Intel releases its Clarksfield class of 45nm Nehalem-architecture Core i7 processors. Although official specs for these four-core mobile chips have yet to be released, the word on the street is that they will have a thermal design power (TDP, an industry-accepted measurement of a chip's power consumption) rating of between 45 and 55 watts, a power hunger that will cause them to be quite toasty, indeed.
Compare that 45/55W TDP with the ratings of the Penryn-class chips in the current MacBook Pros. The entry-level model's 2.4GHz Core 2 Duo has a TDP of 25W, and the upper-class 2.53GHz and 2.8GHz versions rate 35W each.
Although a comparatively hefty 45/55W TDP may seem to be a violation of Intel's oft-stated goal of lower-power chips, remember that not only will Clarksfield have double the number of cores in the current Core 2 Duos, but also that it will have its memory controller on-chip, not in a separate chunk of silicon. That raises its power appetite — which may be one reason why even the dual-core mobile Core i7, Auburndale, is reported to be scheduled for a TDP of 35/45W.
Although attempting to predict Apple's product moves is often a fool's errand, we suggest that liquid cooling may first be seen in a quad-core MacBook Pro. We can only hope that the company has learned from the Power Mac G5's unwelcome secretions. ®