UPDATE Micron is developing a PCIe-connected solid state storage card four times faster than Intel's X25-E. This is the first competitor to Fusion-io's PCI-e-connected ioDrive.
In a demonstration viewable on YouTube, Joe Jeddeloh, the director of Micron's Advanced Storage Technology centre, shows Iometer testing of a dual quadcore Xeon server fitted with two solid state drives which achieve 200,000 IOPS doing 2KB random reads. The set-up does 150-160,000 random write IOPS with a bandwidth of 800MB/sec per card.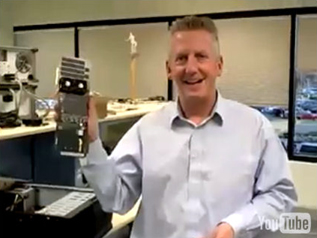 Jeddeloh says: "That's what flash can do when it's managed correctly."
We're not told the capacity of the SSDs or anything about the controller management technology.
Micron has built Washington, a demonstration card with two SSDs on it, an 8-by PCIe connector and a total of 16 flash channels, permitting a degree of parallel operation. It's understood that the SSDs use 64-bit single-level cell (SLC) NAND chips, which are faster than more capacious multi-level cell (MLC) chips.
The testing results have convinced Micron it can reach a bandwidth of 1GB/sec and 200,000 IOPS with this Washington technology. Intel's recently-announced X25-E SSD has a bandwidth of 250MB/sec for sustained reads, a quarter of the Micron target, 170MB/sec for sustained writes, and 35,000 IOPS. That now seems pedestrian.
The ioDrive can do 600MB/sec sustained writes, 700MB/sec sustained reads and in excess of 80,000 sustained IOPS with random 8KB packets. Micron's demo set-up appears to be blowing it away.
Not so in the view of Fusion-io's chief technology officer, David Flynn: "The 1GB per second is said to be achieved using two cards striped together, not one. When our customers stripe two of our ioDrives together, which they commonly do, they achieve well over 1.5 GB per second of bandwidth. With eight ioDrives they sustain over 6 GB per second - exhibiting perfectly linear scaling."
He's commenting about a prototype and comparing it to shipping product so we might find the deliverable Micron product, shipping maybe in 2010, to have a different performance profile, as might the 2010 ioDrive.
Intel is Micron's partner in IM Flash Technologies which builds the 34nm process NAND chips on which, we expect, the new Micron SSD is based. Intel has just announced that it will exclusively partner Hitachi GST to develop SAS and FC-interface SSDs for enterprise storage and server applications. Micron PCI-e connected SSDs will complement these and mean Intel and Micron are keeping out of each other's way in the SSD market. Perhaps they have an agreement about this.
The targeted speeds and feeds of the Intel/Hitachi GST SSD have not been revealed. Jeddeloh says the Washington prototype technology is "coming to you soon". ®