We like the Acer Aspire One netbook's out-of-the-box UI. It's like Mac OS X's Dock writ large: a way of giving you easy access to key apps, but right in front of you, not tucked down at the bottom of the screen. However, you really should be presented with the apps you want, not what Acer believes you should have.
Customising the AA1 UI isn't the doddle it might be under Windows or Mac OS X - there are no GUI tools, for a start. But as confirmed under-the-hood tinkerers, we couldn't leave it at that. We think Register Hardware readers with a penchant for mucking about with operating systems will feel the same. And it's not hard to do.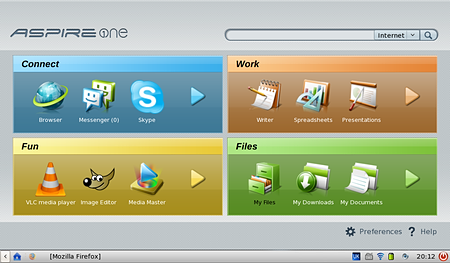 Go from the default AA1 GUI to...
Now, because we use our netbook as an application appliance - we don't store any significant amounts of data on it - we're happy with the built-in UI. If you're not, this hands-on isn't for you. And it's not about replacing the standard UI with a full PC-style desktop.
We'll split the customisation process into four steps: changing the desktop picture, getting rid of the search box, changing the icons and altering the panels under the icons.
The first is easy. Hit Alt-F2 to open the AA1's Run Program... panel and type in xfce-setting-show, click on the Desktop option in the Xfce Settings Manager window that appears. At the bottom of the Desktop Preferences panel you'll see an Image section in which you can enter the path of the image you want to use on your desktop, or browse for one.
Have a look in /usr/share/pixmaps/backgrounds/ for a series of images - including the one we've used here - and it's worth nosing around /usr/share/backgrounds/ too. Or download your own 1024 x 600 pictures.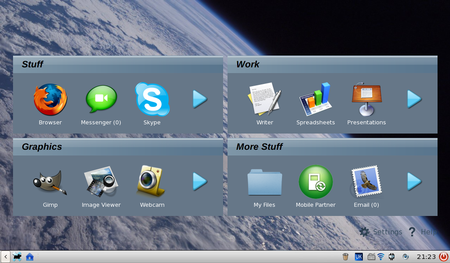 ...one of your own
If you do, run Terminal - hit Alt-F2 and type terminal - and, assuming you've downloaded the file to your main Downloads folder type:
sudo cp /home/user/Downloads/filename.png /usr/share/pixmaps/filename.png
Change filename.png to the name of the file you've downloaded. This puts the new image in a handy place and makes sure it has the correct ownership to display correctly.