Python 3.0 appears, strangles 2.x compatibility
No more snake jokes. We promise
---
Python 3.0 is out now. The latest version makes some major changes to the popular programming language, and it's incompatible with version 2.x releases.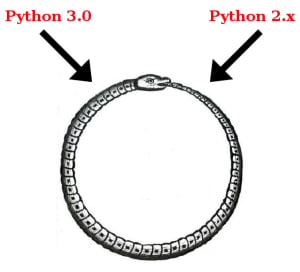 Ouroboros jokes don't count.
It's the first Python intentionally made to break compatibility, according to project founder Guido van Rossum. He describes in the release notes that 3.0 focuses on fixing well-known annoyances and removing outdated code.
"The language is mostly the same, but many details, especially how to build-in objects like dictionaries and strings work, have changed considerably, and a lot of deprecated features have finally been removed. Also, the standard library has been reorganized in a few prominent places."
Python makes up the "P" (along with PHP and Perl) in the LAMP (Linux, Apache, and MySQL) software stack used by many Web 2.0 companies like YouTube, Flickr, Digg, and deli.cio.us as a low-cost and open source architecture.
A full list of changes can be found here.
Take note Python 3.0 also runs about 10 per cent slower than Python 2.5. Speed issues will addressed later on, according to Rossum. ®
Similar topics
Narrower topics