Fujifilm FinePix S100 FS digital camera
A bridge camera that offers bags of DSLR features
Review Who wants a bridge camera these days? After all, you can always opt for a super-zoom compact or an entry-level digital SLR. Well, according to Fujifilm, the FinePix S100 FS "provides the manual controls and functionality of a DSLR without the bulk, hassle and expense of additional lenses".
At first glance, you'd be forgiven for thinking that the FinePix S100 FS was a DSLR. It certainly has the size, shape and style you'd associate with a DSLR, but scratch a little deeper and you notice things like the lack of a switchable lens, mirror system or optical viewfinder. Another thing you notice is the sheer size of this beast – it measures 133.4 x 93.6 x 150.4mm and weighs almost a kilogram (968g) when loaded with a battery and memory card.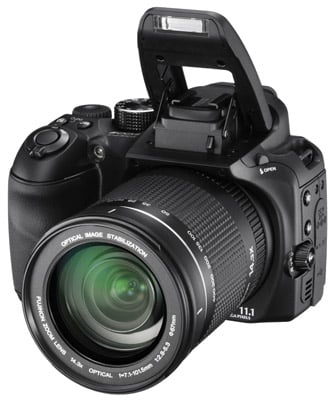 Fujifilm's FinePix S100 FS: not a DSLR
It makes a DSLR like Nikon's D40 - which weighs around 530g when loaded - seem positively lightweight. Let's put it this way, hanging the FinePix S100 FS around your neck is a bit like putting a python over your shoulder – you can't ignore it. Then again, there's a lot to be said for a camera that feels solid and robust, and which provides plenty to grip.
To say that the S100 FS is festooned with buttons is rather like saying Lewis Hamilton isn't half a bad driver. There are loads of them dotted all over the camera's body, and you know what? We think it's a great idea.
There's nothing worse than having to navigate a menu system when you want to, say, adjust the ISO, switch off the image stabilisation or alter the drive mode. The S100 FS has buttons for all of these and more. A brief tour of the camera reveals a massive F2.8-5.3 14.3x optical zoom at the front, with a 7.1-101.5 mm focal length, equivalent to 28-400mm on a 35mm camera. That's one versatile lens spec.