Ex-Appler resurrects Mac-friendly RAID
'Set and forget'
Apple's XServe RAID may have given up the ghost, but now there's a new option for storage-hungry Mac shops.
Today, The Reg spoke with Alex Grossman, formerly the senior director of hardware server and storage at Apple, whose new company has recently shipped the Active Storage XRAID, a user-friendly SMB and enterprise-class RAID system designed specifically for the Mac market.
According to Grossman, his Torrance, California-based company's new storage system is "a step beyond what we did with the Xserve RAID" in terms of ease-of-use. Grossman's goal during the product's development was "set and forget" technology.
The Active Storage XRAID (SRP $14,999) follows industry standards in that it's a 22-inch-deep 3U unit with 16 drive bays, each filled with a 1TB Seagate ES or Hitachi DeskStar drive. The unit is equipped with 4Gb/sec redundant Active/Active Fibre Channel controllers plus redundant and FRU (field replaceable unit) RAID controllers, fans, and power supplies.
Grossman asserts that a core difference between the Active Storage XRAID and those from competitors such as the Apple-sanctioned VTrak E-Class RAID Subsystem from Promise Technology is its Active Storage-written XRAID Admin utility, written fully in Cocoa as a standalone management app and based upon user requests that he and his cohorts compiled during their experience with Apple and MicroNet, along with conversations with potential Active Storage clients.
According to Grossman, the Active Storage XRAID was developed "from the ground up" for Mac-centric installations and can be "out of the box and running in less than two minutes" due to such niceties as Bonjour discovery. In addition, an Active Storage customer can choose to either have the company pre-tune the system for its intended usage type (database or media streaming, for example) or use Active Storage XRAID Admin to perform the tuning after installation.
The Active Storage XRAID's status can also be remotely assessed through both a supplied Dashboard widget and an iPhone app. In addition, the utility has full compatibility with UPS systems from Best, APS, and others - a capability that Grossman claims is lacking from Promise Technology's systems - and can be used to manage on-the-fly RAID-set load balancing.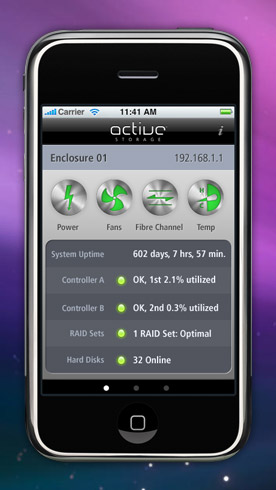 Reach out and touch your XRAID
Sixteen sensors within the unit provide real-time fan-speed management and HDD idling control, while forty (count 'em!) LEDs on the front and back of the box provide info on the health of its innards.
In case you fear that some of those guts may go south on you, Active Storage will sell you a $2,500 FRU service-parts kit that includes a spare power supply, RAID controller, I/O module, and cooling fan. Spare HDDs are also available at extra cost. Real-time support is available from 7:00 a.m. to 7:00 p.m. PST, and after-hours service calls and emails, according to the company's web site, "will be directed to a technician, and returned quickly."
Grossman told The Reg that he couldn't talk about discussions his company might be having with Cupertino concerning certification for Apple's Xsan SAN-administration software. He would, however, comment on Active Storage's acceptance by the Mac faithful: "Orders are fantastic!"
Would you expect him to say any less? ®