Armed anti-paedophile cops swoop on video site uploader
Baby swing vid prompts 'child abuse material' charge
A video sharing website user who posted a clip of a man apparently swinging a baby around has had his house raided by an armed Australian police anti-paedophile squad.
The user "Biggles9" has been charged with "accessing child abuse material, downloading child abuse material and uploading child abuse material with the intent to distribute". He is out on bail and is due to appear in court 18 December. He posted the clip, which he found on MetaCafe, to LiveLeak, a UK-based citizen journalism site.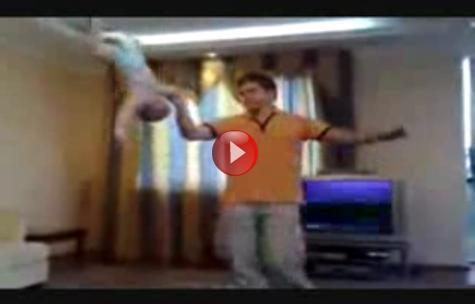 A still from the clip
The Queensland-based "Task Force Argos" swooped last Saturday, allegedly acting on information supplied by British police. They arrested the self-employed company director and grandfather in his sixties and seized computer equipment.
Task Force Argos questioned Biggles9 for about seven hours. According to LiveLeak founder Hayden Hewitt, who has been in regular contact with the long-time member since he was charged, Biggles9 did not ask for a lawyer to be present because he did not believe there was any case to answer.
Biggles9 told The Register his lawyer has advised him not to speak to the press about the case at this stage. In a blog posting to his LiveLeak account, he wrote: "My finger prints and DNA were taken and I was interviewed like a common criminal with tape recordings and video. Apparently this is taken very seriously in Australia."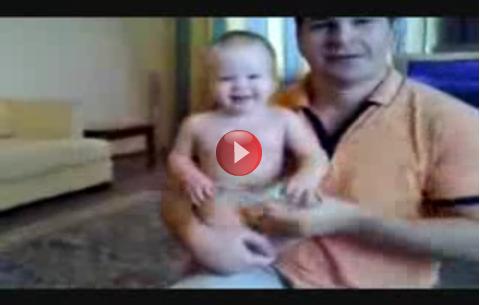 The baby smiles after the performance
Hewitt said he had been told that the clip Biggles9 uploaded to LiveLeak was the only data of interest that the police's digital forensic search found.
According to Hewitt, Biggles9 found the clip on YouTube, via MetaCafe, which aggregates video sites. It was also available on several other video sharing sites. LiveLeak and YouTube have removed the footage, but it is still accessible elsewhere on the web.
It shows a man described as being of eastern European appearance in what appears to be a living room with a sofa and TV, and a baby in a nappy. The man picks up the baby and begins swinging it around very fast, at first by its two arms and then by one. Later, he turns the baby through somersaults. At the end of the performance he holds the baby normally and approaches the camera. The baby smiles.
Biggles9's supporters have speculated that the "baby" being swung around is not real, or that the video was made by a circus family in Russia. Hewitt said: "Clearly the behaviour in the video is reckless, but I couldn't say it's abuse. Are we going to prosecute parents who laugh on film when their children fall?"
It's currently unclear what prompted the raid on Biggles9's home by armed police. A few days after the clip was posted, Hewitt was contacted by a child protection group based in the US, which asked if he had any information about the source of the video. Hewitt didn't, but added an appeal on the page hosting it for anyone with information to get in touch. Soon after, Gloucestershire police asked him to remove it on grounds that people might copy what they saw. LiveLeak declined to remove the clip.
About a month later, Task Force Argos raided Biggles9. He contacted Hewitt and requested the clip be taken down on the advice of his lawyers, which LiveLeak did.
We asked the Serious and Organised Crime Agency in the UK, which acts as the conduit for UK police to provide information to Interpol, whether it had been involved. It had not replied at time of publication.
In his post-arrest blog, Biggles9 wrote: "I'm just trying to warn all the uploaders and moderators to be very careful of what is posted and approved when it comes to children; no one needs to go through this crap over something that is so petty." He added he is confident "sanity will prevail". ®