Konami has offered a glimmer of hope to Xbox 360 gamers who've cried into their pillows because Metal Gear Solid 4 is a PlayStation 3 exclusive.
What are we talking about? The game's publisher has created an MGS website which suggests that the title will be launched on the Microsoft console.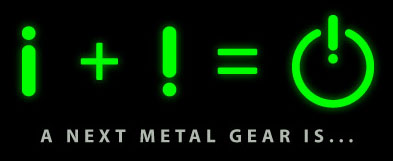 Crack the code to find the Xbox 360 truth
The site shows, in the Xbox 360's customary electronic green hue, a curious 'formula' that includes a lowercase letter 'i' and an exclamation mark. A symbol that looks strikingly similar to the Microsoft console's power button is also shown.
This 'formula' is accompanied by the strap line: "A Next Metal Gear Is..."
Nothing else is known about the website, although part of its URL contains the text "mgst". Could that stand for "Metal Gear Solid Teaser"? Or are we reading too much into it?
Decide for yourself here.
Sponsored: Practical tips for Office 365 tenant-to-tenant migration