A California broadcast satellite provider has inked a deal with Arianespace to launch the highest-ever-capacity commercial internet satellite into orbit over North America.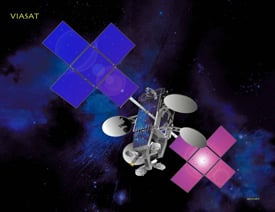 Artist's concept of ViaSat-1, courtesy ViaSat
ViaSat's new high capacity Ka-band spot beam satellite is expected to ride aboard the space-faring pack-mule Ariane 5 during the first half of 2011 from the Guiana Space Center in Kourou, French Guiana.
The ViaSat-1 will have a throughput of about 100Gb/s — more capacity than all current North American internet satellites combined, according to the company. ViaSat claims the satellite will let distributors price a basic service at 2Mb/s compared to the average satellite internet speed of 512kb/s.
Beaming cheaper bits in space may also help make satellite a mainstream internet alternative alongside DSL and cable.
ViaSat-1 will be used to lease broadband internet to service providers across North America. It's expected to be able to provide service to about two million subscribers.
Meanwhile, the French aeronautics company Arianespace is happy to have scooped up another American contract. It said this deal marks the 86th launch contract won by Arianespace in the United States.
Arianespace's next launch is scheduled for Saturday December 20, where it will send up the Hot Bird 9 and W2M satellites aboard the Adriane 5 for Eutelsat. ®
Similar topics