Intel researchers are claiming "world record" performance with their latest push in silicon photonics — or chips with friggin' laser beams.
The vendor published results from a new silicon-based photodetector, which uses light pulses to make stupidly fast connections rather than more conventional (and slower) electrical interconnects.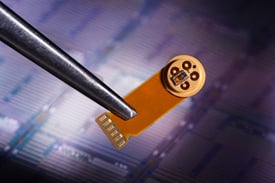 A team lead by Intel researchers created a silicon-based Avalanche Photodetector (APD), a fancy bit of atom-wrangling in a light sensor that can amplify weak signals directed on to silicon. The research was (naturally) published in the trade journal Nature Photonics
Intel said it uses standard silicon and CMOS processing to achieve a "gain-bandwidth product" of 340 GHz. That figure is the best result ever measured for a APD performance metric, the company claims.
"This opens the door to lower the cost of optical links running at data rates of 40Gbps or higher and proves, for the first time, that a silicon photonics device can exceed performance of a device made with traditional, more expensive optical materials such as indium phosphide," said Intel.
Chipzilla expects affordable photonic kit to play a major role in its schemes to cram 10's, even 100's of cores into future processors. All the compute capability Intel is dreaming up will require speedy links, and using standard fabbing technology may help bring volume economics to optical communication.
Other companies like Sun Microsystems and IBM are also hard at work to chip the light fantastic with less exotic materials, although the work is still in the early stages.
The research was jointly funded by the US Defense Advanced Research Projects Agency (DARPA), with manufacturing and process aide from the memory firm, Numonyx.
Intel has provided a handy Flash animation to explain how the APD detects and amplifies optical signals.
There's also publicity shot of a ladybird/ladybug crawling across the experimental chip. Someone apparently made this insect a unit of measurement without telling us.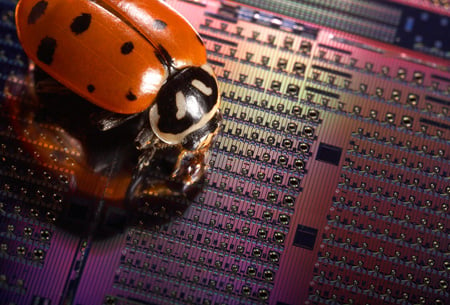 We approve wholeheartedly and hope it becomes standard by the time silicon optical on-chip interconnects may actually show up in kit five or ten years down the road. ®