This article is more than 1 year old
Barrow boy Microsoft flogs nostalgic tragic t-shirts
As Dell Boy takes to QVC
Microsoft has got into the fashion biz by plastering Bill Gates' jailbird fizzog on a new range of t-shirts.
Dubbed Softwear (see what they did there?), Redmond's hoping to flog some Microsoft-branded clothing to the sort of people who would prefer to have Gates' visage rather than his Vista splattered across their chests.
The clothing line forms part of Microsoft's new ad campaign. The t-shirts were conceived by Crispin Porter & Bogusky and appear to hark back to the 1980s when DOS was, er, king.
Or, as Microsoft likes to put it, Redmond is showcasing "the DOS days of the software company that now connects over a billion people." There's no mention of Windows Vista at all, though. Funny that.
A few designs have been contributed by rapper Common, who features in a nauseating ad on Microsoft's website.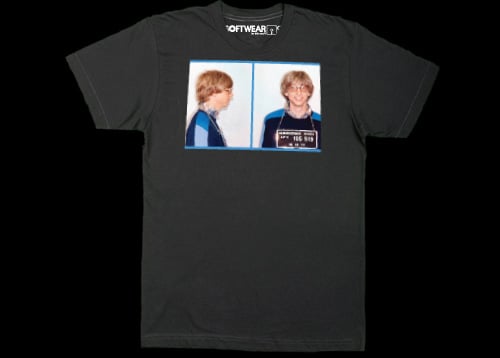 Now you too can parade a fresh-faced outlaw on your chest
The "vintage" t-shirt features the infamous Bill Gates mugshot taken after the MS co-founder was arrested by the Albuquerque Police department at the tender age of 19 for driving without a licence and speeding. Aw, nostalgia.
Meanwhile, Michael Dell was apparently sighted on shopping channel QVC yesterday, although mercifully you have (so far) been saved from having to watch said footage on YouTube.
Although sightings have been rare, Dell Boy has dabbled in a bit of QVC action in the past. In 2002, not long after the nasty dot.com crash, he was seen selling goods on the TV channel.
"People rely on QVC for quality and value, so it's a great place for us to demonstrate the features and capabilities of our computer systems," he said without even as much as a hint of irony way back in the early Noughties.
So, what next in these tough, recessive times? Will Red Hat start selling some colourful headgear down the market? Maybe Cisco could take a temporary stall in the local shopping centre? Could we even see ex-Yahoo! CEO Jerry Yang start selling his wares on Microsoft's Live Search (if it works)? Sadly, dear readers, it seems anything is possible in these gloomy, cash-poor times. ®