Stuck wondering what you're going to stick into your new PC's eSATA port? Memory specialist OCZ has the answer: a USB-style eSATA thumb drive.
While there's not enough power coming through an eSATA port to run a full-size drive, OCZ clearly believes there's enough juice for up to 32GB of Flash storage.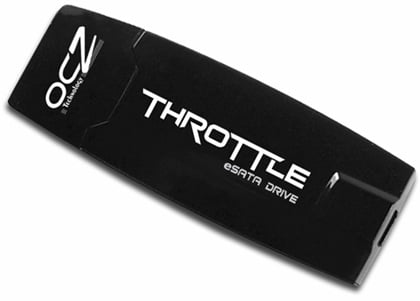 OCZ's Throttle eSATA: the end of the USB stick as we know it?
It claimed the Throttle eSATA drive, as the product's called, delivers a read speed of up to 90MB/s and writes at up to 30MB/s.
No eSATA port just yet? Fear not, the Throttle eSATA also has a mini USB port and cable so you can connect it in the usual way.
Available in 8GB, 16GB and 32GB versions, there's no official word on pricing, but we expect the Throttle eSATAs to sell for around $32 (£22/€25), $56 (£38/€44) and $160 (£108/€125), respectively.