WowWee Rovio Mobile webcam
All Terrain, Armoured... webcam. Well, almost
---
Review If the conventional webcam has a failing, it's the lack of an ability to let you wander about and look at things out of the fixed view of the camera. The Rovio aims to correct this limitation.
As befits a company whose background is in the robotic toy market, WowWee has gone for the pseudo-military-tech toys-for-boys look with the Rovio – in fact it looks exactly as we would expect an ROV spy drone used by the good guys in Halo to look, complete with a wholly useless bank of six blue lights on the upper chassis.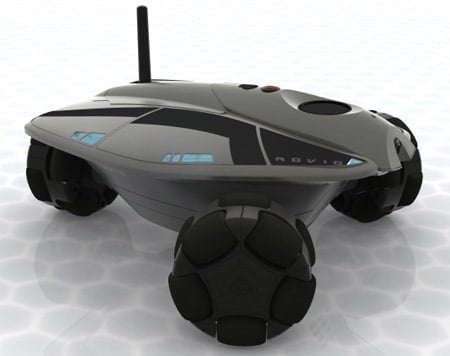 WowWee's Rovio Mobile: solid and robust
While the look may be a bit 1980s Starbird-style, there's nothing cheap about the build quality. Yes, it's all plastic, but it feels solid and robust, and you're getting a sizeable and weighty bit of kit for your money. In the absence of any exact manufacturer's specs, we measured the Rovio as standing some 95mm tall, 185mm at its widest and 265mm nose-to-tail, while the weight is a little over 1kg.
It's a clever enough design, too. The three-wheel units not only enable the Rovio to spin through 360° in its own length and shuffle sideways, but each has two sets of five free-spinning rubber castors that provide plenty of grip on even the smoothest of surfaces and allow the hub to, in effect, free-wheel when the device is moving in a direction other than that in which the wheel is aligned. The Rovio doesn't actually have a steering mechanism, changes in direction being accomplished by the drive varying between the three fixed wheels.
While those three chunky and robust wheels mean the Rovio can tackle pretty uneven terrain, one thing it can't do is climb stairs. Going down is easy enough: just drive it off the top and hope it lands the right way up and in one piece at the bottom.