Review To the masses a monitor is a monitor. For those who spend hours staring a screen, response times and colour reproduction can be important. But for most, screen size and price are the deciding factors.
However, the Samsung 2263DX has something else that may pique some people's interest. This 22in monitor comes with a little friend: a small, 7in companion, to be precise.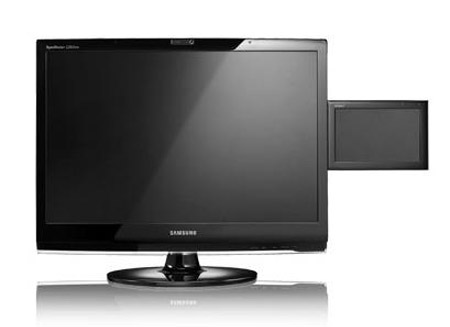 Samsung's SyncMaster 2263DX: novel solution
For a couple of years now, most discrete graphics cards have been able to support multiple monitors, but a pair of full-size screens can be expensive and cumbersome for most desks. One response is to use a laptop with an external monitor attached.
Samsung has come up with a different and rather novel solution to the problem, namely introducing a smaller secondary monitor that can be used to display all the information that's useful to have on hand, such as email, widgets, instant messenger conversations, reference documents or a media player.
The 7in UbiSybc 7 monitor is driven by a DisplayLink chip, which means it connects and is powered over USB, so even if your PC only has a single display connector you can still make use of this monitor. In fact, you can even use this screen completely independently.
Sponsored: Practical tips for Office 365 tenant-to-tenant migration