Better Place deploys re-charging posts in Israel
Pillar of the EV community?
'Leccy Tech Better Place has shown off its first electric car re-charging points in Israel.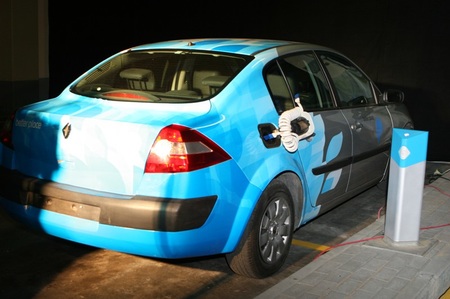 Better Place's Charging Post and EV: members only
Similar, if not identical, charging posts will soon be popping up in Denmark, Australia, California, Hawaii and any other place where Better Place strikes a deal to deploy its 'leccy car charging infrastructure.
The chargers on show were in the car park for the Cinema City, Pi-Glilot near Tel Aviv, and Better Place also announced a deal to install them in Ahuzat Hof's car parks – Israel's answer to NCP, we presume. The installation of charge points has also begun in Tel Aviv, Haifa, Kefar Sava, Holon, and Jerusalem.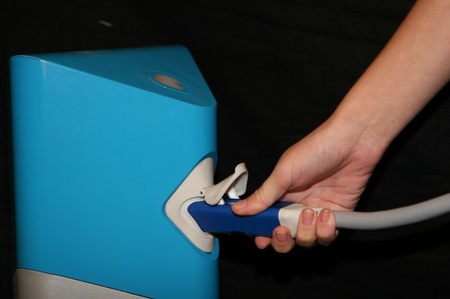 Coming soon to a city near you?
Once plugged in, the charging point acts as a link between the car's on-board software and the Better Place control centre that ensures the right charge goes into the right car at the right time, or to quote Better Place, "centralises the energy consumption, regulates the different demands, and produces an energy consumption plan that is fitted to each car".
Better Place plan to install around 500,000 re-charge posts in due course along with a number of "battery-swap stations". BP's research shows that 90 per cent of Israeli motorists drive less than 50 miles a day, making the country the prefect testbed for its electric vehicle infrastructure.
Of course, to use a charge point you have to be a Better Place subscriber and driving a Better Place car. Roll up in a Chevy Volt or Tesla Roadster with your Visa card and you'll be flat out of luck. And in possession of a flat battery.